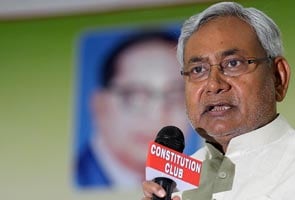 Patna / New Delhi:
The ragged ties between the BJP and its main ally Nitish Kumar were a little more frayed today, though only last night, BJP president Rajnath Singh told NDTV that the "crisis" would soon be resolved.
Ignoring a cease-and-desist warning publicly issued by the BJP over the weekend, Mr Kumar, who is the Chief Minister of Bihar, took another swipe at BJP leader
Narendra Modi
this morning, suggesting that the buck stops with the government of Gujarat for the communal riots of 2002.
Mr Modi was serving his first term as chief minister of Gujarat when hundreds of Muslims were killed across the state.
Mr Kumar's repeated statements questioning the secularism of Mr Modi -always without naming the BJP leader - drew a sharp response from the BJP yesterday. Spokesperson Meenakshi Lekhi said the Bihar chief minister would do well to remember that he was Railways Minister when nearly 60
karsevaks
were killed at Godhra in Gujarat in a train returning from Ayodhya. That tragedy was followed by the riots that lacerated Gujarat.
Mr Kumar retaliated today by saying that the Railways Minister is responsible for safety on trains; the law and order of a state, he said pointedly, rests with the government.
Other members of his party were more direct. "Our opinion of Mr Modi is not new. So why is the BJP surprised?" asked Shivanand Tiwari of the Janata Dal (United) or JD(U). "We are not forcing the BJP to support us, we have not tied them down...if the BJP can make wild allegations, we too can respond."
On Sunday, Mr Kumar, once again without taking any names, targeted Mr Modi by stating that a leader without secular credentials would not be acceptable to him as the presumptive prime minister of the BJP-led coalition, the NDA, which includes his party.