New Delhi:
Highlights
Chief Minister Nitish Kumar ready to end current alliance: sources
That would mean reviving earlier partnership with BJP
Nitish Kumar tempted to exit 18-party opposition front: sources
At age 66, Bihar Chief Minister Nitish Kumar is keen to reinvent himself - so keen that he is willing to discard his burning ambition to someday run for Prime Minister. This job opportunity, he had come to accept, would - if at all - present itself only if he remained a senior member of the opposition and took on the BJP. It's no longer worth it, he appears to have decided, largely because his experiment of working with two anti-BJP parties, the Congress and Lalu Yadav, as his allies in Bihar has been a colossal disappointment.
That is why he is demanding the resignation of 28-year-old
Tejashwi Yadav
, his deputy, who refers to Mr Kumar as "
chacha
" (father's younger brother) with questionable respect. Tejashwi's father, Lalu Yadav, heads the Rashtriya Janata Dal or RJD. Last week, Lalu and Tejashwi were named in a corruption case by the CBI which raided their home in Patna along with other properties in search of evidence that they colluded to acquire three acres in the Bihar capital, worth at least 90 crores, for just 65 lakhs. The accusation is that Lalu Yadav parlayed his term as union Railways Minister to secure prime real estate, proxy-owned at first but soon transferred to companies owned by his wife and children by private contractors to whom he gave lucrative contracts.
Nitish Kumar said earlier this week in remarks that were anything but opaque
that his dictum of "zero-tolerance to corruption" remains in effect, signaling that he expects Tejashwi Yadav to quit. He also said that the defense offered by the Yadavs - of the case being manufactured by the centre to square off with Lalu's fierce attacks on Prime Minister Narendra Modi - is inadequate. A detailed defense must be presented to the public, said Nitish Kumar, who prides himself on his image as "
Suhasan Babu
" - an efficient administrator unmarked in three consecutive terms by any corruption scandals.
Lalu Yadav told ndtv.com
yesterday that those who have "neither elected nor selected" Tejashwi have no right to demand his removal. The people voted for him, the party chose him as its top minister, he said. But giving away the game, he said, when pressed, that "
I will not allow the maha-gathbandhan (the alliance) to suffer
". So if Nitish Kumar insists on it, the resignation will be arranged. Sources in both camps agree that Nitish Kumar set
an unofficial 72-hour deadline that expires tomorrow evening for the Yadavs
to make it right. What is being worked on now, including with the alliance's third and most junior partner, the Congress, is how to remove Tejashwi without making it seem like total capitulation by the Yadavs.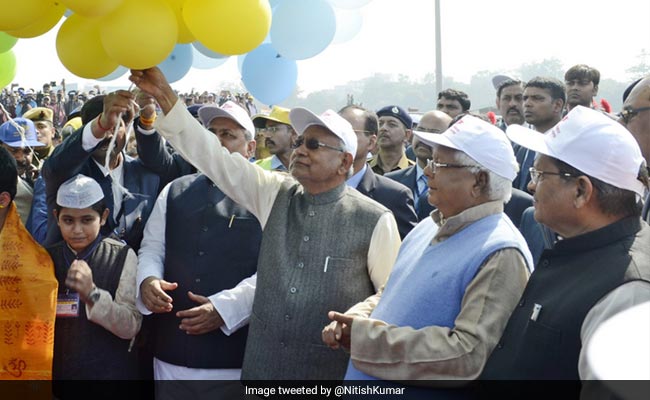 Even if a detente is arranged, say sources close to Nitish Kumar, it will be a short-lived injection of capital in a venture he is done with, for which he holds both the Congress and Lalu Yadav equally responsible. The former, he believes, has failed to anchor a league of national opposition parties; the latter is a liability with a matrix of corruption cases (Friday's raids were linked only to one case, the Yadavs are named in many others) and an abject dislike for working for anything but self-interest.
In 2013, Nitish Kumar broke his alliance with the BJP, a venture that had lasted 17 years, because the party picked then Gujarat Chief Minister Narendra Modi as its presumptive Prime Minister. The Bihar veteran felt that Mr Modi was tainted by the riots of Gujarat in 2002 in which nearly 1,000 people were killed, most of them Muslims. Given the community's support for him in Bihar, he felt he would be punished if he remained affiliated with Mr Modi as he sought the country's top job.
Scorching burn. Mr Modi delivered one of the country's most spectacular campaigns and results. Mr Kumar's party won just two of Bihar's 40 assembly seats. For his own re-election barely two years later, Nitish Kumar knew he would need industrial-grade reinforcements to combat the appeal of a PM-led bid for Bihar, so he agreed to an alpha-alliance, a
Maha-gathbandhan
, with the Congress and former rival Lalu Yadav. The assortment of castes that they brought together as support groups was successful in delivering a rare setback to PM Modi.
Lalu Yadav, who won the most seats, honoured a pre-election arrangement that returned Mr Kumar as Chief Minister, but neither he nor his Rashtriya Janata Dal (RJD) have allowed that to pass unnoticed, referring frequently to their "80 MLAs" or strength in the legislature that ensures Mr Kumar remains Bihar's top boss. The number was last brandished last evening. "Tejashwi will not resign at any cost. The RJD has 80 legislators. We will do what we want," a party leader Bhai Virender said in Patna.
In return, Lalu Yadav got a total of 12 ministers; his older son Tej Pratap is among them; younger son Tejashwi, at age 25, became Deputy Chief Minister. Mr Kumar learnt early that the Yadavs would not conform to his style of governance. The sons frequently could not find the time to attend public functions at which the Chief Minister was present; Lalu Yadav acted like a majority stake-holder with management rights, insisting, for example, that a senior bureaucrat whose term had ended be given an extension. When Nitish Kumar refused, he was issued the commonplace "80 MLAs" reminder. He didn't cave. But Lalu Yadav managed to fill several other offices with appointees of his choice and took over the running of key departments in charge of constructing roads and bridges, ventures in which there was plenty of room to make big bucks, should one be so inclined.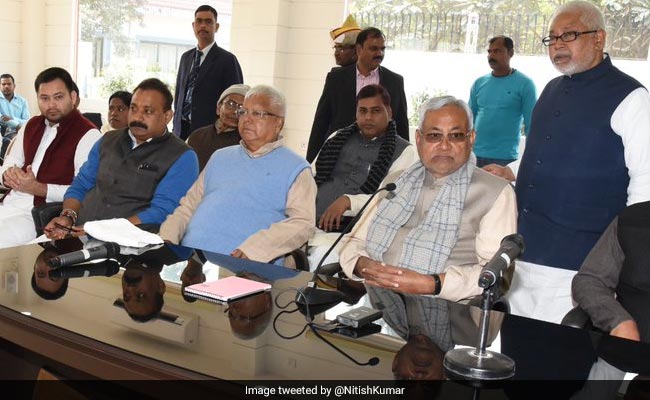 The Congress, on the other hand, sought Nitish Kumar's counsel on national issues, then roundly ignored it. Like many within the Congress, he advocated an alliance for the Assam election in May last year; none followed and the Congress lost a state it had held for 15 years. He petitioned hard last year for a Bihar-style
maha-gathbandhan
in Uttar Pradesh - a band of parties whose collated support among different castes could counter the BJP's campaign led by the Prime Minister; the Congress snoozed, waking up entirely too late for a half-hearted alliance with Akhilesh Yadav, then the Chief Minister of India's most-populous state. The omnibus of parties was never assembled. The PM strode away with a victory in March that set a 30-year-high in Uttar Pradesh.
Uttar Pradesh, the bellwether of national elections, convinced Nitish Kumar that the Congress lacks the chops to breach the growing firewall of the BJP. In April, he helped assemble a front of 18 opposition parties. They agreed that an attempt to jointly contest the election for President of India could define the terms of a larger alliance for the next general election. The Congress, given pole position in the team, displayed its by-now customary inertia. The BJP announced its nominee, the then Bihar Governor Ram Nath Kovind; Nitish Kumar said given the opposition's choice was still anon and Mr Kovind had a Bihar link, he would sign on with the BJP for this contest. Accused of political promiscuity by his allies, he bitterly declared that an opposition gathering without "an alternative narrative" would amount to nothing.
Critics say that Nitish Kumar has been given a fig leaf by the Yadavs and their corruption cases - that he has been looking to vault back to the BJP without proving right those who say that his main principle is remaining in power. In November, he left other opposition leaders slack-jawed when he voiced unequivocal support for the PM's shock move to outlaw high-denomination notes as essential to fighting corruption. Since then, he has signaled repeatedly that he cannot be presumed as committed to the opposition, skipping a big conclave of its top leaders for a lunch hosted by Prime Minister Narendra Modi.
If Nitish Kumar loses the Congress and Lalu Yadav and returns to partnering with the BJP (which has offered his government external support), he will have exited the opposition without taking a shot at becoming its prime ministerial candidate. But the Chief Minister, his aides say, has made two calculations: that PM Modi appears unbeatable by what in its current iteration is a ragtag opposition front, and that if he purges his government of Tejashwi Yadav, he will be entitled to major bragging rights of his service of fighting corruption - at the risk of losing his job (though the BJP's offer has guaranteed that won't happen).
What the removal of Tejashwi Yadav could accomplish for Nitish Kumar has also reportedly got the BJP a little concerned - while the optics of winning back a stalwart of the opposition, would be remarkable (and offer personal satisfaction to the BJP's top bosses, given his dumping them a few years ago), his coming across as a crusader against venality could position him, as far as the public is concerned, a little higher than the BJP would prefer.