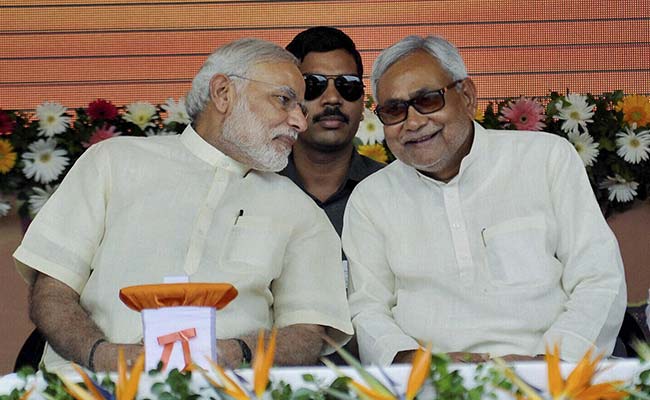 Patna:
Bihar Chief Minister Nitish Kumar yesterday lavished praise on Prime Minister Narendra Modi, saying he "leads from the front" and takes responsibility for success and failure alike.
"The most important thing in running a government is to provide leadership. It is very important to lead from the front for any leader who is running a government. Narendra Modi is such a leader," he said.
"As a former MP, I have seen many PMs who hesitated in leading from the front. During the Congress regimes in the country it was also seen that some people got credit for achievements which were never theirs while others received brickbats for failures which they could not be blamed for. Things are different under (PM) Modi," the JD(U) chief said.
Mr Kumar made these comments at the release a book 'Sava Arab Bharatiyon Ka Sapna' authored by senior Gujarat-based journalist Uday Mahurkar.
The Bihar chief minister lauded the prime minister for having taken "courageous" decisions like demonetisation, GST and surgical strikes, which were criticised by opposition parties. Mr Kumar said he always supported these measures, which were tough but necessary for the welfare of people. Defending his decision to quit the 3-party Grand
Alliance, Mr Kumar said, "There can be no compromise with corruption. The decision was taken keeping the interest of Bihar in mind".
Mr Kumar's JD(U) had quit the "Mahagathbandhan" - comprising the Congress and Lalu Prasad's RJD in July this year. He quit the alliance and joined hands with the BJP after the RJD rejected his suggestion that Prasad's son and the then deputy chief minister Tejashwi Yadav give an explanation in public over corruption cases lodged by the CBI against the father-son duo in the hotels for land scam.
After Mr Kumar resigned as the chief minister, the BJP immediately offered support for forming a new government which he accepted.
Speaking at the same function, Deputy Chief Minister Sushil Kumar Modi praised both the prime minister and Mr Kumar, saying "I see very little difference in their style of functioning. Our chief minister has rich experience in governance and he has taken many praiseworthy decisions".
BJP national secretary general Anil Jain lamented that the PM Modi government was coming under attack through various campaigns like "Vikas pagal ho gaya hai (development has gone mad)" on social media which was recently used by Congress vice president Rahul Gandhi to target the prime minister.
Mr Kumar, while delivering his speech, told Mr Jain, "Have courage. Do not get perturbed by such campaigns. Those who act courageously always succeed".