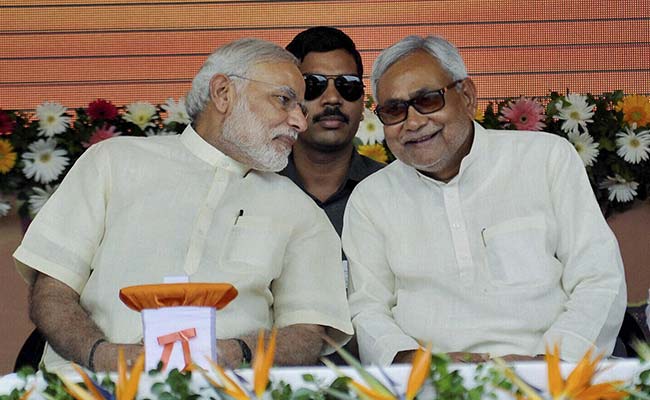 Highlights
Bihar Chief Minister, a Congress ally, skipped Sonia Gandhi's lunch
Will attend lunch hosted by PM today for Mauritian Prime Minister
Move adds to talk that Mr Kumar may be considering political realignment
New Delhi:
Bihar Chief Minister Nitish Kumar, who sent regrets and a representative for Congress president
Sonia Gandhi's lunch party
for opposition leaders on yesterday pleading prior engagements, will fly to Delhi only a day later to lunch with Prime Minister Narendra Modi. PM Modi is hosting lunch in honour of visiting Mauritian Prime Minister Pravind Jugnauth and has invited senior leaders like Mr Kumar.
The Bihar chief minister turning down
Mrs Gandhi's lunch invitation
- designed as a show of opposition unity on the day the Modi government turns 3 - had caused eyebrows to be raised. His yes to PM Modi has sparked a massive political buzz. It comes as the Congress is trying to gather opposition parties on a common platform to test the ground for a possible alliance of parties to take on the BJP in the 2019 national election when PM Modi will seek a second term.
"I was invited by PM in honour of Mauritius Prime Minister and you know we have deep emotional bonds with people there. 52 per cent of population there has origins in Bihar," Nitish Kumar explained after a cabinet meeting on Friday evening also saying that he has sought a separate appointment with the Prime Minister on Saturday to discuss desiltation of the Ganga river. Leaders of his Janata Dal United said not much must be read into his response to the two lunch invites.
Mr Kumar was for years a bitter political rival of the Prime Minister and ended his nearly two-decade-long alliance with the BJP over the latter's ascent in his party. In recent days however he has not quite lived up to the reputation of a being sharp critic of PM Modi.
When all opposition parties denounced the Prime Minister's demonetisation move last year as a reform that punished the poor,
Mr Kumar stood out for his enthusiastic support of the notes ban
, agreeing with PM Modi that it would counter black money and corruption.
Last week, he slipped in praise for the PM when he ruled himself out as a Prime Ministerial candidate in 2019. He said he didn't have the "the aspiration or the ability" adding that, "the person in whom people will see potential will become the prime minister. People saw potential in Narendra Modi during the last elections, he has become the PM."
The Prime Minister has on occasion responded in kind, like when he complimented Mr Kumar's implementation of an alcohol ban in Bihar.
For months now there has been speculation that Mr Kumar could be considering a political realignment with the BJP, though he has assured his allies Lalu Yadav and the Congress that he is not inclined to end their partnership, built to defeat the BJP in assembly elections in the state two years ago.
A lunch hosted by the chief minister to celebrate the festival of Makar Sakranti in January was boycotted by the Congress because Nitish Kumar had invited BJP leaders.
Most recently, Mr Kumar's lack of support for ally
Lalu Yadav
, accused by the BJP of corrupt land deals worth 1000 crores, has been noted. "If the BJP has documents, then it should take legal recourse to prove their accusations," he said last week, adding that he saw no reason for a "third party" to comment.
"This is not an issue that falls in the domain of the state government nor in the company law of Bihar." the chief minister said.
Lalu Yadav
attended Sonia Gandhi's lunch today. Nitish Kumar sent Sharad Yadav, a senior leader of his Janata Dal (United).
For more stories on three years of the Modi government,
click here
.