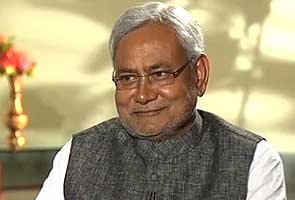 Patna:
Despite a messy divorce from Chief Minister Nitish Kumar, a section of the BJP in Bihar is determined to embarrass the party by extolling his virtues in public.
So today, Rana Gangeshwar Singh, a state legislator, declared that the Chief Minister "will be a better Prime Minister than
Narendra Modi
." The tribute was offered at a function attended by the Chief Minister. Mr Singh dared his party to penalise him for his comments.
When Mr Kumar called off a 17-year partnership with the BJP in June, he pinned the blame on Mr Modi. The Gujarat Chief Minister had just been picked by the BJP to head its campaign for the nation election; Mr Kumar said this proved the BJP planned to make Mr Modi its prime ministerial candidate, which he had for months flagged as a deal-breaker.
The split meant that the BJP was booted out of the Bihar government.
The break-up has seen both sides making a daily practice of swapping invective, but in the BJP, a group of about seven among the party's 92 legislators are believed to be examining the possibility of joining Mr Kumar's party, the Janata Dal United or JDU.
A few weeks ago, one of those rebels was suspended from the BJP for speaking publicly in favour of Mr Kumar.
More recently, senior BJP leader Shatrugan Sinha was rebuked by the party for declaring that he sees PM potential in the Bihar Chief Minister.
When asked if he sees himself as a Prime Ministerial candidate, Mr Kumar has always demurred.
He has said that his fierce opposition to Mr Modi is based on the latter's failure to check the communal riots in Gujarat in 2002, in which hundreds of Muslims were killed. The BJP says that Mr Kumar's stand is driven by the fact that nearly 17% of Bihar's population is Muslim.