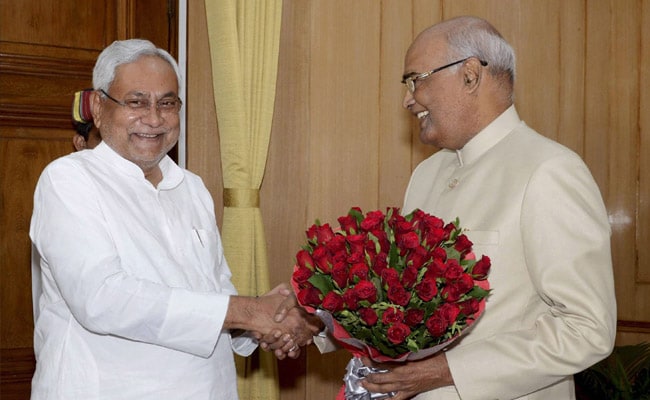 Highlights
BJP picks Bihar Governor Ram Nath Kovind for President of India
Chief Minister Nitish Kumar praises Governor, inclined to back him
Opposition to meet tomorrow on whether to back Ram Nath Kovind
Patna:
Just as intended by the BJP,
the selection of Ram Nath Kovind for the President of India has fissured the opposition
. Especially in Bihar, where Mr Kovind has served as Governor since August 2015 and where the two main partners in government, Chief Minister Nitish Kumar and Lalu Yadav, have a propensity for disagreement.
Yesterday, the BJP stumped the opposition by picking Mr Kovind, 71, as its candidate for President. Because Mr Kovind is a Dalit, most opposition parties find it hard to disagree with his choice. Mayawati, for example, who is a Dalit icon, said she would not object to Mr Kovind unless the opposition fields another Dalit as its candidate.
Opposition parties are meeting on Thursday in Delhi to decide whether to back Mr Kovind or enforce an election, as suggested by the Left's Sitaram Yechury.
Mr Kumar is a key component of the united opposition front that is being tested by the BJP's naming of Mr Kovind. Last evening, the Chief Minister visited the Governor at his home in Patna to congratulate him on his nomination. When Mr Kovind was named Governor, the Chief Minister had complained that he had not been consulted about the appointment. But they developed a good equation. Praising the Governor yesterday for "an ideal relationship" with the Bihar government, one that was free of partisanship despite the Governor's BJP roots, Mr Kumar said his party would make its stand clear at Thursday's meeting.
However, sources close to him say he believes there are no grounds to object to Mr Kovind, who has in the past served on the BJP's unit that works for Dalits.
In 2012, Mr Kumar broke with opposition parties and the alliance that he was a part of to back the then government's choice, Pranab Mukherjee, for President. Mr Mukherjee won the election against PA Sangma.
He is allegedly not in favour of the opposition now putting up a candidate of its own. However, Lalu, who is his main ally and the Congress, who is their junior partner in Bihar, feel that it's imperative to push for an election for Rashtrapati Bhavan to make it clear that they cannot rally behind the likelihood of the first-ever BJP leader as President of India.
Lalu also does not want to be seen on the same side as the BJP at a time when his children - two of whom are Bihar ministers with a third as MP - are being investigated for allegedly acquiring pricey real estate through shell companies.
The BJP and its allies have about 48 per cent of the vote.
With the support of regional parties including Naveen Patnaik's BJD and Tamil Nadu's AIADMK
, they are placed to win an election if it should take place on July 17 (votes will be counted three days later).
The Congress chief, Sonia Gandhi, is meant to chair Thursday's meeting of opposition parties. A candidate being considered by the opposition is Meira Kumar, a Dalit and former Lok Sabha speaker.
Mr Kumar and Lalu are known to disagree regularly on important policies. The latter was upset with the Chief Minister's vocal support of Prime Minister Narendra Modi's abrupt demonetisation move, for example, when opposition leaders united to condemn it. The whorls of corruption allegations about Lalu's sons, who are ministers in Mr Kumar's cabinet, have also stressed their relationship.