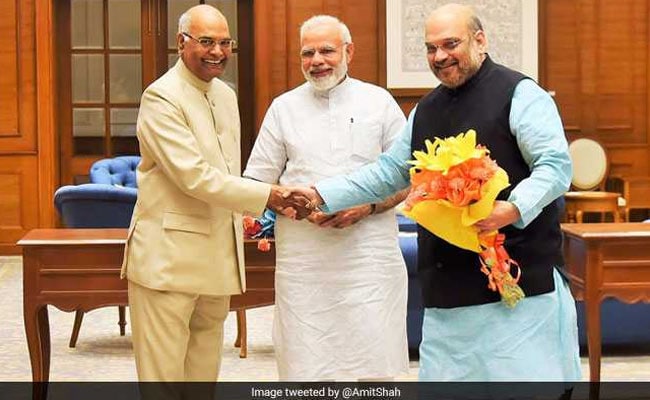 New Delhi:
The opposition parties will meet on Thursday to decide whether to support Bihar Governor Ram Nath Kovind or field their own candidate for the President's post. There is speculation that the opposition may pick another Dalit leader, former Lok Sabha Speaker Meira Kumar. The BJP's announcement appears to have driven a wedge amid opposition parties, which are wary that refusal to support Mr Kovind may portray them as anti-Dalit. The Congress and the Left have responded cautiously. If an election is held, Mr Kovind stands to win as some regional parties from south have promised support to the NDA.
Here are the 10 latest developments in this story:
The selection of a Dalit leader for President is seen a move by the BJP to consolidate its growing support among backward castes and poorer voters. If elected, Governor Kovind will be India's second Dalit president after KR Narayanan, who served from 1997 to 2002.

Several opposition leaders have indicated they will find it tough to oppose Mr Kovind. "As he is a Dalit, we are positive on his name, but only if the opposition doesn't announce a popular Dalit name (too)," said Dalit leader Mayawati.

Bihar Chief Minister Nitish Kumar expressed pleasure at the appointment but said he would meet with other leaders before announcing his decision.

Some ruling parties of the South - including Telangana's TRS and Tamil Nadu's AIADMK - have said they would go9 with PM Modi's choice. So will Andhra Pradesh's TDP and Odisha's BJD.

Ms Banerjee, the Bengal Chief Minister who has been a vocal critic of the PM on most issues lately, said, "I am not for a moment saying that the Bihar Governor Ram Nath Kovind is unfit to be the President. I have spoken to two or three other Opposition leaders, they are also surprised. There are other big Dalit leaders in the country."

Prime Minister Narendra Modi tweeted to say the Governor would make "an exceptional President".

Governor Kovind is a long-time BJP worker. He has served twice as a Rajya Sabha member and is a trained lawyer. The 71-year-old Governor, who reached Delhi last evening, told NDTV "It's a duty, let's take it as such".

PM Modi personally talked to a number of opposition leaders, including Congress's Sonia Gandhi and Dr Manmohan Singh, to seek their support. He also spoke to TDP leader Chandrababu Naidu and BJD's Naveen Patnaik.

The opposition has said that despite the BJP talking of wanting a "consensus candidate", it sought no input on Governor Kovind's candidature. Calling the decision "unilateral", CPM leader Sitaram Yechury said it leaves "no scope" of discussion with the BJP.

Ally Shiv Sena too said it had not been consulted and had learnt about the nomination through the media. The party's leaders will hold a meeting this evening.
Post a comment