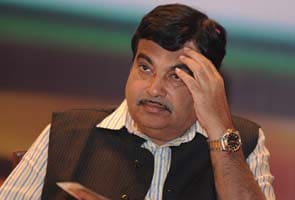 Mumbai:
Nitin Gadkari may have been exonerated by his party of corruption charges, but that's about the only break the BJP president has managed to catch lately.
The investor firms who bought into his Purti Group are being investigated for tenebrous sources of funding and possible money-laundering and tax evasion.
Then, earlier this week, he appeared to compare the intelligence quotient of spiritual leader Swami Vivekananda and underworld don Dawood Ibrahim. Mr Gadkari has apologized for that statement, which he said, was misrepresented.
The BJP's oldest ally, the Shiv Sena, isn't about to let it go. An editorial by Sena chief Bal Thackeray in the party mouthpiece says, "Gadkari has clarified that he has not equated Vivekananda with Dawood. However, not a single leader of his party has defended him," Mr Thackeray said.
He compared Mr Gadkari's comment to LK Advani's remarks in 2005 on Pakistan's founding father Mohammed Ali Jinnah. Mr Advani had described Mr Jinnah as a secular leader; the aftermath was so intense that he was forced to resign as BJP president. The Shiv Sena chief says Mr Gadkari's statement on Swami Vivekananda will similarly cost him his party's support.
Despite an apology sent out via a press release, yesterday, the RSS said that "People like Swami Vivekananda are very respected people across the world. So when we talk about them...we have to keep in mind that sentiments of millions of people are attached to them and we should be careful about that." The RSS is the ideological mentor of the BJP; in 2009, it selected Mr Gadkari as BJP president despite resistance from other party leaders. And in the current controversy over his financial track record, it has offered measured support, calling for "an impartial probe" but pressuring the BJP to let Mr Gadkari complete the six weeks that remain of his current term. (
RSS disapproves of Nitin Gadkari's comment on Swami Vivekananda)

It was largely as a result of the RSS' intervention that the BJP said last night that it believes there is no evidence of "legal or moral wrongdoing" by Mr Gadkari.