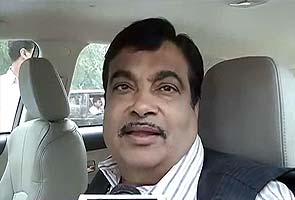 Nagpur:
Former BJP President Nitin Gadkari was on Thursday questioned for over four hours by Income Tax authorities in connection with the probe into alleged dubious investments in Purti group of companies.
Mr Gadkari, who was earlier slated to appear on February 1, was quizzed by Geetha Ravichandran, Director of I-T (Investigations) at the I-T office in central Nagpur's Sadar area, sources said.
The BJP leader's representatives had earlier submitted to the I-T department a 25-page document in reply to questions regarding his personal transactions and investments related to the Purti group of companies and few others.
Mr Gadkari has denied allegations of any wrongdoing and said that he had resigned from the Purti group sometime back.
The I-T department had earlier issued summons for appearance to Mr Gadkari in the second half of this month as the taxman was probing alleged tax evasion case against him and his group of companies.
The department has been probing various firms that invested in Mr Gadkari's company Purti Power and Sugar Limited (PPSL). The department, according to sources, has allegedly found the details of almost 30 companies that have been "in transactions" with PPSL.
On January 22, I-T officials had conducted on-field inquiries at 11 premises in Mumbai belonging to alleged shell companies related to Purti group and found no trace of these entities at their given addresses.
Manoj Wadekar, a personal assistant of Mr Gadkari, said that the BJP leader appeared before the I-T authorities on Thursday as he is supposed to attend the party's core committee meeting on Friday in Delhi.