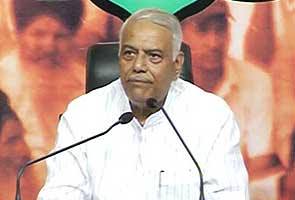 New Delhi:
A series of senior BJP leaders are making it clear that they disagree with the party's decision to continue with Nitin Gadkari as its president while he battles corruption charges.
Yashwant Sinha said today that he agrees with the sentiments expressed in a letter by lawyer and BJP MP Ram Jethmalani in which he warns of disastrous consequences for the BJP if Mr Gadkari is not removed.
Mr Sinha said he does not, however, support Mr Jethmalani's methodology, which has centred on a strong public attack on Mr Gadkari.
The BJP's core group is expected this evening to clarify that it continues to support Mr Gadkari and that he will complete his term as president, which expires in December.
In his letter sent on November 2 to BJP veteran LK Advani, Mr Jethmalani says that Mr Sinha, Jaswant Singh and Shatrughan Sinha are considering quitting the party with him if Mr Gadkari is not dismissed. (
Read the entire letter here
)
"All four of us met last night to consider whether we should bid goodbye to the party," he warns.
Explaining that the charges against Mr Gadkari are hurting the party, Mr Jethmalani writes," The damage already caused is immense but may be mitigated with great effort. He must be asked to resign forthwith. If we wait till Parliament is summoned, we will have betrayed the nation. History will not forgive us."
Mr Jethmalani is seen as close to Gujarat chief minister Narendra Modi, who has shared a fractious relationship with Mr Gadkari while angling for a move to the party's national stage.
The controversy around Mr Gadkari is rooted in the firms that invested in a company he co-founded ten years ago. Investigations -first by NDTV and then by other media - revealed that many of the firms who bought equity in Mr Gakdari's Purit Power and Sugar Limited had bogus addresses and directors.The source of their own funds appeared tenuous.
Then, anti-corruption campaigner Arvind Kejriwal, who launched his own party last month, alleged that Mr Gadkari had rejected activists' who sought his assistance in blowing the lid off a massive irrigation scam in his home state of Maharashtra. Mr Kejriwal and members of India Against Corruption said that Mr Gadkari had said that he could not support their campaign against the government in Maharashtra because he works closely with Sharad Pawar, whose NCP belongs to the ruling coalition in the state.
The activists alleged that Mr Gadkari was helped by the NCP to grab farmers' land for his business empire in violation of the law. Mr Gadkari has refuted those charges as well.