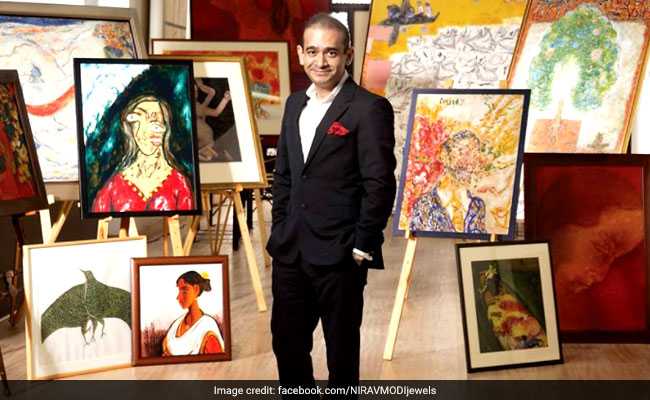 On Valentine's Day, one of India's biggest banks disclosed an almost $2 billion fraud allegedly by one of the country's richest men, who deals in pearls and diamonds.
Shares of the lender, Punjab National Bank, plunged on the news, dragging down other lenders when it said the scam may extend to multiple banks.
With several questions still unanswered, here's what we know about the case:
Who are the key people named in PNB's complaint?
In its complaint to the federal investigation agency -- the Central Bureau of Investigation -- PNB alleged that the fraud was led by Nirav Modi, a jeweler who's dressed Hollywood and Bollywood actors including Kate Winslet and Priyanka Chopra. Modi's No. 85 on Forbes's 2017 list of India's richest people and, at 47, is one of the youngest.
PNB on Friday told the exchanges it has also filed complaints against Mehul Choksi's Gitanjali Group of companies. These include Gitanjali Gems Ltd. and PNB alleges a 49 billion rupee loss from Choksi's companies, CBI spokesman Abhishek Dayal said in a text message.
PNB alleges that Modi and Choksi worked with a former PNB employee, Gokulnath Shetty, who was posted at a PNB branch in Mumbai from where the fraud originated. Shetty was a deputy general manager in the foreign-exchange department looking after import payments.
The CBI has posted a copy of an initial complaint on its website. Modi's office didn't reply to calls and emails seeking comment on PNB's complaint. Gitanjali's external media contact wasn't available for comment. Shetty couldn't be reached for comment and PNB didn't reply to a request seeking assistance in contacting Shetty.
What is this fraud about?
PNB has alleged that the Modis and companies linked with them colluded with Shetty to pull off the heist. The bank claims they used fake PNB guarantees worth $1.8 billion to obtain loans from the overseas branches of Indian banks, claiming to need the cash to import pearls, according to documents made public or seen by Bloomberg.
How did it allegedly start?
The fraud allegedly dates back to 2011, said Rajiv Kumar, India's top bureaucrat for the bank sector. Between then and January 2017, Shetty issued several fake PNB letters of undertaking -- without any collateral -- for Modi, PNB said.
The bank claims they then bypassed the lender's internal messaging system in order to avoid detection, and placed instructions via the Swift global payment system asking overseas branches of Indian banks to fork out the cash as loans, according to a document from PNB seen by Bloomberg. PNB is still investigating how this played out.
How did it come to light?
It came to light last month, when representatives of Modi's companies approached PNB for a fresh loan, PNB said in its complaint, the details of which have been made public.
By then, Shetty had retired and his successor declined to honor Modi's request."At this, the firms contested that they have been availing this facility in the past also but the branch records did not reveal details of any such facility," PNB said in the complaint. This was when it discovered the fake letters of undertaking and filed an initial complaint alleging a $44 million fraud. Two weeks later, it filed another complaint covering transactions worth about $1.8 billion, according to people familiar with the matter.
Who bears the brunt?
PNB is in talks with other banks and liabilities will be decided after the probe, PNB Chief Executive Officer Sunil Mehta told reporters on Thursday. He added that PNB will follow the regulator's instructions on repayment.
The Reserve Bank of India hasn't responded to emails seeking comment and hasn't publicly commented on the case.
PNB has alleged that the money was used either to retire import bills or replenish maturing lines of credit with some other banks, according to the document seen by Bloomberg. In its public complaint, PNB names the Hong Kong branches of Axis Bank Ltd. and Allahabad Bank as the overseas counterparties.
Allahabad Bank has exposure of about 40 billion rupees while Axis Bank has a roughly 30 billion rupee exposure, a person familiar with the matter told reporters in New Delhi. Union Bank has about 20 billion rupee exposure with rest accounted to State Bank of India, the person said, asking not to be named as the information isn't public.
"Allahabad Bank has raised claims of two tranches of $26 million each from Punjab National Bank for underwriting the letter of credit," the Mint newspaper reported citing Usha Ananthasubramanian, managing director at Allahabad Bank. "We want the bank to pay up as the exposure is on PNB."
Axis Bank told the exchanges on Thursday that the transactions were undertaken in the normal course of business and credited to PNB's nostro accounts. It added it has "sold down all of the referred transactions."
What next?
India's government has asked all banks to send reports involving this case or other such incidents latest by the end of this week, the Press Trust of India reported.
The banking bureaucrat Kumar told BloombergQuint that the case is an isolated one. About 10 PNB employees have been suspended pending the CBI investigation, he said. He didn't name any of the accused.
PNB's CEO said Modi has reached out to PNB to present a repayment plan but the bank has sought more details. Nirav Modi had left India even before the CBI complaint was filed, according to media reports that didn't cite any people.
India's foreign ministry on Friday said it has suspended Modi and Choksi's passports, and the documents may be revoked if they fail to respond.
"We will seek government intervention to extradite Modi and Choksi and will not allow any settlement that leaves burden on tax payers," C.H. Venkatachalam, general secretary of the All India Bank Employees Association, said in a phone interview. "From the data we are collecting the sense is that the amount is set to become bigger."
(Except for the headline, this story has not been edited by NDTV staff and is published from a syndicated feed.)