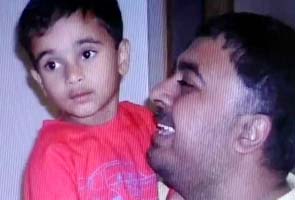 New Delhi:
As an Indian couple battles in Norway for the custody of their two children - taken away and sent to foster care by the Child Protective Services - the grandparents of the children, accompanied by CPM leader Brinda Karat, met President Pratibha Patil on Saturday.
It has been over seven months since Monotosh and Shikha Chakrabarti have seen their grandchildren.
"The President was shocked to hear this and has assured us every possible help," said Shikha Chakrabarti.
In May last year, Anurup and Sagarika lost custody of their toddlers - three-year-old Avigyan and one-year-old daughter Aishwarya - after Norwegian authorities objected to her hand feeding the baby equating it to force feeding.
Norway's Child Protective Service took equal objection to the child sleeping in the same bed as the father, insisting the boy must have an independent bed. When contacted by NDTV, the head of Norway's Child Welfare Services denied the account of the parents.
"The Child Welfare Service has a responsibility to intervene if measures at the home are not sufficient to meet a child's needs. Examples are when there is every probability that the child's health or development may be seriously harmed because the parents are incapable of taking adequate responsibility for their child. The Norwegian Child Welfare Act applies to all children in Norway, regardless of the child's nationality, citizenship or cultural background," said Gunnar Toresen, Head of Child Welfare Services from Stavanger, Norway.
Norway's Child Protective Service is a powerful body charged with protecting the rights of children living in difficult family situations. But there are many reports of excesses.
"There has been a report in UN in 2005 which criticized Norway for taking too many children in public care. The amount was 12,500 children and Norway is a small country," said Svein Kjetil Lode Svendsen, a lawyer.
What seem to be cultural differences have now turned out into a full-fledged legal battle for the children's custody. Parents have visitation rights once or twice a year.
"It's like a nightmare. They are Indian citizens and they are minors and that's our only hope that the Indian government and the President will intervene and bring back our children to our laps. That's our only hope we are looking to," the mother of the children, Sagarika Bhattacharya, told NDTV via Skype.
"Nowhere in the petition does it say cruelty to the children or abuse. The question is what gives the Norwegian authorities the right whether morally, or even international rules to take away these babies from their parents? On what basis have they kept them? How can they do this? This is against all international norms," said CPM leader Brinda Karat.
The Ministry of External Affairs is actively pursuing the matter with the Norwegian authorities.
"The Indian Embassy reiterated the concerns of the government of India to the Norwegian Ministry of Foreign Affairs that the children were being deprived of the undoubted benefits of being brought up in their own ethnic, religious cultural and linguistic milieu. Hence, the return of the children to India so that they can be brought up in familiar surroundings under the loving care of their extended family would be in their best long-term interests. Norwegian authorities have expressed understanding and it is understood that they are trying to find a solution. The matter will continue to be pursued with them actively," a statement by the Ministry said.
Aishwarya and Avigyan's parents have lost the case in the lower courts in Norway which has ordered them to be in the care of foster parents till the age of 18. What's worse is that their parents' work visas expire in March and the time is running out. If they don't get their children by then, the couple will be forced to stay on.
"What we have thought is we are not going to apply for visa for my children. But if the case doesn't get sorted we have to apply because we cannot come back to India without our children," said Mr Bhattacharya.
"I tell my daughter everyday to be strong. She has to fight," said Monotosh Chakravarti, the grandfather of the children.
"Everyday lost is another day that we have to make more efforts to bring back our children to their normal lives," said Anurup Bhattacharya.