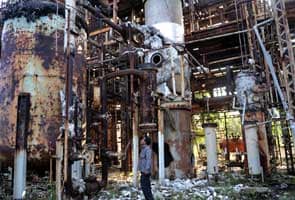 New Delhi:
Whistleblower website WikiLeaks today began publishing more than five million confidential emails from US-based intelligence firm Stratfor. The online organisation claims to have proof of the firm's confidential links to large corporations such as Bhopal's Dow Chemical Co to which it allegedly provided information concerning the activities of activists working in connection with the Bhopal gas tragedy.
Here are top 10 facts about the fresh expose:


1)
On Monday, WikiLeaks began releasing on its website more than five million emails from Stratfor, a US-based global security analysis company that Reuters says has been likened to a shadow CIA.
2)
The messages, which date from between July 2004 and December 2011, allegedly show that Dow Chemicals used Stratfor to monitor the online activities of activists in Bhopal, campaigning against the company for the 1984 Union Carbide/Dow Chemical gas disaster. WikiLeaks claims that Stratfor provided to Dow analysis of daily developments in court hearings in India; it also allegedly shared travel plans and activities of campaigners pushing for action against Dow. "We are angry and shocked to know we were being monitored...not right to spy on us," activists in Bhopal said.
3)
WikiLeaks founder Julian Assange told Reuters: "Here we have a private intelligence firm, relying on informants from the US government, foreign intelligence agencies with questionable reputations and journalists...what is of grave concern is that the targets of this scrutiny are, among others, activist organizations fighting for a just cause."
4)
Stratfor in a statement claimed that some of the material released by WikiLeaks "may be forged or altered to include inaccuracies; some may be authentic." The company also described as incorrect reports that CEO and founder George Friedman has resigned. Stratfor stressed that it is "not a government organization, nor is it affiliated with any government."
5)
The Stratfor emails were originally stolen in December by members of the hacker group Anonymous.
6)
Stratfor
was set up in 2009 by best-selling author George Friedman. It is privately-owned and based in Austin, Texas. Its website says that it supplies "geopolitical analysis" and that subscribers "gain a thorough understanding of international affairs, including what's happening, why it's happening, and what will happen next."
(Read about Stratfor)
7)
WikiLeaks promises it will reveal Stratfor's "web of informers, pay-off structure, payment-laundering techniques and psychological methods," claimed a WikiLeaks press release. "The material shows how a private intelligence agency works, and how they target individuals for their corporate and government clients," added the press release.
8)
WikiLeaks claims to have proof of the firm's confidential links to large corporations, such as Bhopal's Dow Chemical Co and Lockheed Martin and government agencies including the US Department of Homeland Security, the US Marines and the US Defense Intelligence Agency.
9)
The group claims to have found evidence that Stratfor gave a complimentary membership to Pakistan general Hamid Gul, former head of Pakistan's ISI intelligence service, who, according to US diplomatic cables, planned an IED attack against international forces in Afghanistan in 2006.
10)
Australian-born Assange, 40, is currently under house arrest in Britain and fighting extradition to Sweden for questioning over alleged sex crimes.