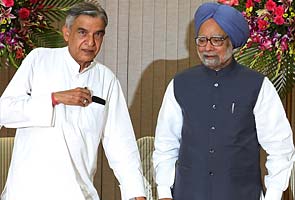 New Delhi:
In line with the government's push for more economic reforms, the new Railway Minister Pawan Kumar Bansal hinted that there could a hike in passengers fares soon, pitching it as necessary for improved services. He said that he will have to "ensure that the infrastructure of the railways does not collapse". The ministry after several years has been retained by the Congress, instead of an ally party.
The last time a railway minister proposed a hike in fares, it was Dinesh Trivedi of the Trinamool Congress. He ended up losing his job because his party chief Mamata Banerjee threw a fit over his plan, before eventually pulling out of government altogether on the larger issue of reforms.
Mr Bansal new deputy, Adhir Choudhury who is a known Mamata-baiter, backed his senior fully.
Speaking at the ministry while taking charge, Mr Bansal said that if fares will be increased, "it will be for providing better services for passengers."
The Railways are facing a financial crunch and funds for many of the ongoing projects are being curtailed. The minister also gave a clue to exactly how badly off the situation is. The minister said, "We have to ensure that the vast infrastructure of the Railways does not collapse and stop functioning... So we have to increase fares and assure the public that if there will be any hike, the public will also appreciate it because we are going to improve the services."
However, he did not go into the nitty-gritty of a possible passenger fare hike. "I have just assumed charge...I will discuss the issue threadbare."
Mr Choudhury said, "Rail services have fallen in the last few years. There are increasing number of complaints with regard to the services. Safety and security is a big concern for the Railways and I think these areas need attention."
On the issue of Dedicated Freight Corridor (DFC), Mr Bansal said, "We have to expeditiously work on DFC as it will benefit the people. All the regions of the country will get their due from the Railways."
He also promised to improve the ticket reservation system to ensure genuine passengers get confirmed tickets. "We will try to improve the ticket reservation process with the help of technology so that there are less problems in getting tickets," he said.
Emphasising on the need safety and security, Mr Bansal said, "We are aware of the fact that the primary concern is the safety of passengers. We have to do our best to ensure security of the passengers. Cleanliness is also important besides punctuality. We have to give a clean environment in the trains."
Mr Bansal said, "It is our endeavour to strengthen the physical and financial position of the Railways. We have to move with the times."