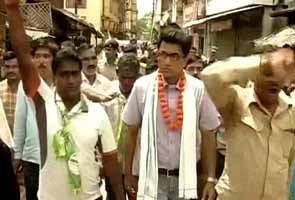 Jamshedpur:
Donning the politician's hat is an entirely new role for Dr Ajay Kumar, what is familiar is the setting - Jharkhand's East Singhbhum district, once notorious for its high crime rate.
It was here as a young Superintendent of Police, between 1994 to 1996, that Dr Kumar solved a host of murder cases, putting many high profile criminals behind bars.
He was known for his fierce independence and his refusal to not give in to political pressure.
It was perhaps for the first time under Dr Kumar that Singhbhum got a team of honest officers who ensured law and order in the area.
He subsequently resigned from the Indian Police Service to pursue a successful corporate career.
Now, he's back as the district's newest Lok Sabha Member of Parliament (MP) from the Jharkhand Vikas Morcha which was formed by Babulal Marandi. Mr Kumar defeated his nearest BJP rival by more than 1 lakh 50 thousand votes.
All other candidates lost their deposits.
"The people wanted to see someone win who has a good image. I think the key was that I did not make any false promises to the people," said Dr Ajay Kumar, MP, Jamshedpur.
"We have heard of his tenure here as SP. We have high hopes from him, said Nitai Manna, villager.
What has surprised many is the ease with which Dr Kumar managed his victory, on a high profile seat vacated by none other than the BJP's Arjun Munda, when he became Chief Minister of Jharkhand . It's a seat, the BJP was expecting to win comfortably.
The BJP top brass, has summoned its Jharkhand leaders, including Arjun Munda, to Delhi to explain this loss. Local party leaders allege Dr Kumar's victory came on the back of support from Naxals, who dominate the district, like many other parts of Jharkhand.
"As a former cop, it was totally unethical for him to have telephone conversations with Naxals and seek their support," said Dineshanand Goswami, President, Jharkhand BJP.
It's an allegation the newly elected MP rubbishes. Dr Kumar, has jumped straight into the political arena. He has been spending time touring the most backward areas of his district, and has promised a better life to his electorate.
Those who voted him in, will hope the ex-cop turned politician, can live up to his word.