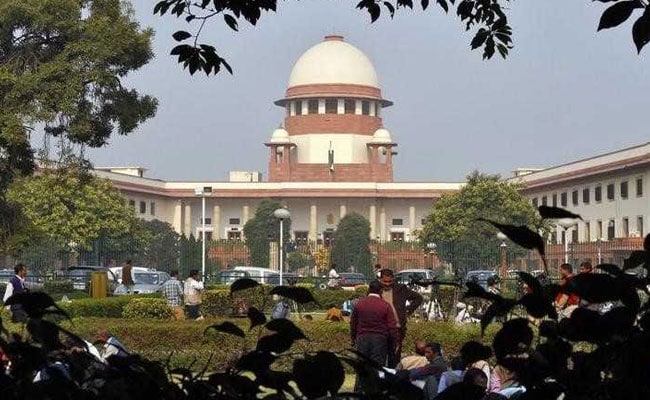 New Delhi:
The Supreme Court today said there was a need to wait for sometime before any direction is given to the Centre for bringing back Indian citizens stranded in USA in the wake of coronavirus pandemic as efforts are being made by both, New Delhi and Washington, to provide assistance to them.
The top court said the US government was extending visas of stranded Indians who are spread across America and at this stage its is difficult to pass direction for bringing them back.
The top court, which was hearing a plea seeking direction to the Centre to bring back Indian citizens stranded in USA due to travel restriction, observed that the coronavirus pandemic is a worldwide problem and every country is doing its best to deal with the situation.
"They cannot be brought in, no matter how much we want. Assistance is being given to them. They are spread across US and cannot be brought back. The US government is extending the visas. Let us wait for some time," a bench of Justices NV Ramana, SK Kaul and BR Gavai said.
USA is reported to be worst affected by COVID-19 with deaths of over 40,000 and more than 7.25 lakh cases of virus infection.
Senior advocate Vibha Datta Makhija, who filed the plea, told the bench that application for visa extension costs around 500 US Dollars and there was no guarantee of visa getting extended.
"It is a different government. We cannot control their decisions. Indian government can request the US government to not create problems in the visa extension," said the bench, which heard the matter through video-conferencing.
The petitioner told the bench that evacuation of Indians from foreign countries amid coronavirus pandemic was done earlier and some of the people stranded in the USA are in dire need of help.
Solicitor General Tushar Mehta told the bench that evacuation from foreign countries was done earlier but "now, internationally it has been stopped".
Taking note of the submission, the bench observed that it cannot pass an order for evacuation at this stage.
Vibha Makhija said there are international commitment to meet along with the guidelines of World Health Organisation (WHO) and also rights of citizens.
However, the bench said "The court will not tell the government to do anything in a particular manner. It is a worldwide problem. Each country is doing their best. These are not matters for court''s intervention."
It said the government would lay down the roadmap.
When the petitioner said that several persons stranded in USA are in high distress and some of them are suffering from diseases, the solicitor general suggested that they can convey the issues to the designated nodal officer for the particular country.
Separately, the bench also heard a plea seeking evacuation of around 800 Indian fishermen who are stranded in Iran amid restrctions due to the pandemic.
The solicitor general informed the bench that there is an "inter-provincial lockdown" in Iran.
"We are in touch with the Embassy of Iran. The Iranian authorities have been in touch with them. They are on a long term visa. There is Inter-provincial lockdown in Iran," he said.
Tushar Mehta said that Indian Embassy and consulate have also been in touch with these fishermen and making arrangements for adequate food supply to them.
The counsel appearing for the petitioner raised the issue of supply of food and water to these fishermen and claimed that they have received a memo from Iran over WhatsApp as per which, the Embassy has not paid to the company which was given charge to supply food to them.
However, Mr Mehta said all necessary help have been extended to them through the Embassy.
"The government is helping. Whatever can be done, will be done. Situation has gone out of hand across the world," the bench observed.
"They are on long term visa, have WhatsApp connectivity through which you are speaking to them. Let the government handle the situation as per the conditions," it said.
The petition has claimed that these fishermen, who are mostly from Tamil Nadu, Kerala and Gujarat, are stranded in boats stationed in shores of Bandar-e Moqam and Lavan Island in Hormozgan province of Iran.
World
Coronavirus has spread to 193 countries. The total confirmed cases worldwide are 17,56,48,398 and 37,94,727 have died; 5,83,03,389 are active cases and 11,35,50,282 have recovered as on June 13, 2021 at 9:06 am.
India
2,80,43,446

132062
Recovered
In India, there are 2,94,39,989 confirmed cases including 3,70,384 deaths. The number of active cases is 10,26,159 and 2,80,43,446 have recovered as on June 13, 2021 at 8:00 am.
State & District Details
State
Cases
Active
Recovered
Deaths

5898550 10697

158450

5631767 14910

108333 1966

Sri Potti Sriramulu Nell*

296

1803074 6952

91417

1699775 11577

11882 58

2757324 9785

191817

2532719 21614

32788 144

162048 472

5057

154077 601

2914 15

2339705 15108

162073

2148352 27463

29280 374

2716655 13832

129911

2575769 18172

10975 171

986504 813

15082

958111 1652

13311 11

Jayashankar Bhupalapally

9

602089 1771

22133

576487 2384

3469 13

847313 4852

54990

789066 7578

3257 47

787909 337

4775

774600 985

8534 24

819866 490

10863

799012 1278

9991 6

949376 368

8400

932161 975

8815 16

765522 426

5186

751387 944

8949 45

1702172 504

9806

1670631 1757

21735 68

1430884 213

3610

1402474 497

24800 28

457330 3463

44645

408770 5600

3915 42

18257 167

3783

14193 292

281

716728 432

5701 105

701543 309

9484 18

1457273 4286

16248 1056

1424213 3149

16812 81

North And Middle Andaman

1

7243 10

121

6996 12

126 1

112126 442

5745

104704 844

1677 9

31148 298

3187

27818 380

143 5

23562 96

3633

19481 237

448 3

10462 6

95

10363 20

4

343304 239

3966

334256 493

5082

59086 565

5552

52921 703

613 9

19544 38

746

18601 88

197

306638 866

16284

286180 2153

4174 14

198313 370

5402

189527 830

3384 17

Shahid Bhagat Singh Nagar (Nawanshahr)

99

586947 961

14064

557380 2135

15503 68

336616 463

5021

324667 700

6928 19

59322 554

8710

49653 751

959 15

61056 58

540

59727 79

789 3

41601 501

4871

36003 610

727 13

15267 346

3660 159

11545 187

62

9175 53

615

8517 103

43
(Except for the headline, this story has not been edited by NDTV staff and is published from a syndicated feed.)