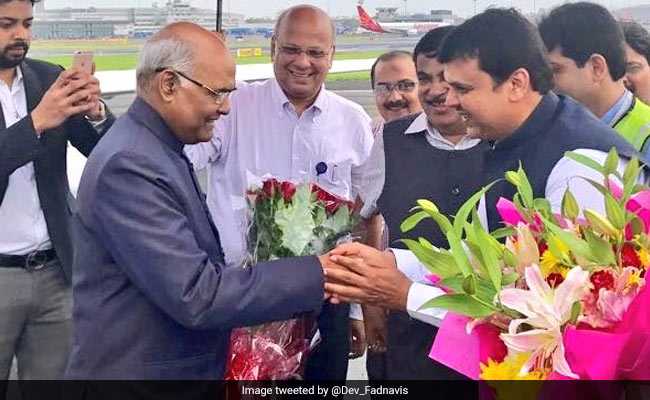 Mumbai:
NDA presidential nominee Ram Nath Kovind arrived in Mumbai today to address a meeting of legislators and MPs.
Mr Kovind was welcomed at the airport by BJP leaders, including Union ministers Nitin Gadkari and Ramdas Athawale, and Chief Minister Devendra Fadnavis.
From the airport, Mr Kovind left for the Garware Club in south Mumbai, where he is scheduled to address a meeting of NDA MPs and legislators in the state.
"After the meeting and lunch, Kovind will leave the city," a BJP leader said.
Ram Nath Kovind is not scheduled to meet Shiv Sena president Uddhav Thackeray at his residence, BJP sources said.
Significantly, Pranab Mukherjee and Pratibha Patil, as presidential candidates of the UPA, had visited the then Shiv Sena supremo Bal Thackeray at his residence 'Matoshree' in suburban Bandra as the party had broken ranks with the NDA in the past two elections for the highest constitutional office.
Uddhav Thackeray had announced his party's support for Ram Nath Kovind after a meeting of Shiv Sena leaders in Mumbai last month.
"Kovind is a good candidate, a straight-forward person from a simple family and has the potential to work for the country's benefit," he had said, after dithering for a day following the announcement of Mr Kovind's candidature by the BJP, followed by its endorsement by most other NDA partners.
The Shiv Sena's announcement to support Mr Kovind had come amid severe strains in relations of the party with the BJP over a host of issues.
The party had pitched for Rashtriya Swayamsevak Sangh (RSS) chief Mohan Bhagwat as its first preference for the top office. "If India has to be made a 'Hindu rashtra', Bhagwat will be a good choice for President," Shiv Sena MP Sanjay Raut had said.
After Mr Bhagwat ruled himself out of the race, Shiv Sena had suggested agricultural scientist MS Swaminathan's name for the post, saying he will be able to provide solutions to the deepening agrarian crisis in several parts of the country.
BJP president Amit Shah had met Mr Thackeray last month at 'Matoshree' to enlist the party's support for the NDA's presidential candidate.
Sena has 18 MPs and 63 MLAs. The voting for the presidential election is scheduled on July 17 and the counting will take place on July 20, four days before President Pranab Mukherjee's term ends.