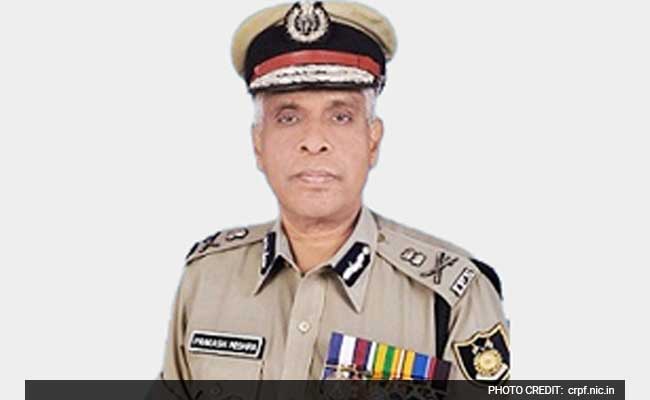 New Delhi:
Maoist menace is rearing its ugly ahead again in Odisha and the newly created state of Telangana after lying low for some time with the overall situation in Left Wing Extremism (LWE)-affected states remaining "fluid", the Chief of the lead anti-Naxal operations force, Central Reserve Police Force (CRPF) has said.
CRPF Director General (DG) Prakash Mishra said while the focus of anti-Naxal operations continues to be the worst Maoist violence-hit states of Chhattisgarh and Jharkhand, areas around the Andhra Pradesh-Odisha Border (AOB) and
those within Odisha
"need more attention."
The ex-Odisha Director General of Police (DGP) said while Naxal activity in the state had by-and-large cleared up, it is now "coming back" in the Narayanpatna area of Koraput district which borders Andhra Pradesh.
"There could be many reasons (for this) -- non-application of Standard Operating Procedures or lax policing. The inherent danger is always there...even in Telangana and some places in Andhra Pradesh," said the CRPF Chief.
CRPF is drawing up a map for re-deploying its forces in Odisha with Mr Mishra himself undertaking a number of operational visits to the state.
"As of now, I would say the situation is fluid but if the drive (operations and development together) continues as it is at the present, then I think, it (Naxal violence) is going to take a turn for the better only. There shouldn't be any let down (in operations and development works) in affected areas," he said when asked to give his assessment of the
Left Wing Extremism situation in the country.
Mr Mishra, who retires this month-end after heading the country's largest paramilitary for over a year.
The Union Home Ministry has recently sanctioned 1,000 more Border Security Force personnel to Andhra Pradesh for these tasks.
The DG said security forces have made a good "dent" and hit at the strength of Maoist cadres in various states, demolishing the belief that they were "invincible". He also said Naxal violence has been "going down" over the last year but he warned that these incidents have a "cyclic pattern" and they can come back after a brief lull.
While 52 CRPF men were killed in anti-Naxal operations in 2014, only five were martyred in these operations in 2015. The force, which leads anti-LWE operations across the country, also killed 40 Naxals in the year gone by.
The last big casualty in the Naxal operations grid happened in December 2014 when fourteen of its troops were killed in an ambush in Chhattisgarh.
Mr Mishra said earlier the elite jungle warfare unit of the force called CoBRA (Commando Battalion for Resolute Action) was "mixing up" with regular battalions for such tasks but after he took over he made it a norm that CoBRA commandos go for "independent and deep penetration" operations with the regular units acting as support elements.
(This story has not been edited by NDTV staff and is auto-generated from a syndicated feed.)