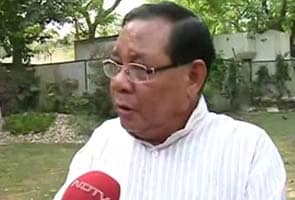 New Delhi/ Bhubaneshwar:
Odisha Chief Minister Naveen Patnaik has said that his party, the BJD and the Jayalalithaa-led AIADMK will support former Lok Sabha Speaker PA Sangma's candidature for President.
BJD MP Jay Panda said that Mr Sangma is a man of repute who ought to get a lot of support. "He (PA Sangma) represents north east and that all efforts will be made to build a consensus around him," Mr Panda told NDTV.
Mr Sangma, who is with the NCP, had demanded that the President must be from the Scheduled Tribes. He had said that he had pushed this case with leaders of all parties. He met Ms Jayalalithaa on Tuesday in an apparent bid to garner support for a tribal candidate for the post. The NCP, headed by Sharad Pawar, is part of the Congress-led UPA government at the Centre. "We know our limitations with the number of MPs and MLAs we have, we don't have the mandate to propose anyone's name," said NCP leader Praful Patel.
Today, after the BJD and the AIADMK's endorsement, Mr Sangma said, "I am extremely grateful to both of them and I hope others also support it. We had a meeting earlier where we made an appeal that a tribal leader be made the President. We are so happy it's getting a good response from veterans. I also met Mulayam Yadav and Ram Vilas Paswan."
"Pranab Mukherjee is very qualified, but like him many others have also been there. So this time we want a tribal leader to be the President," he added.
Mr Sangma's addition to list of names under consideration for the Presidential polls comes at a time when both Congress and BJP are trying to rally support from their allies and evolve a consensus on a candidate.
"The BJD's founder and president Shri Naveen Patnaik have been consulting leaders of other parties and people and he announced BJD would support PA Sangma. He is a very respectable person and had been the Speaker earlier. I think they (the Congress and Opposition party) should consider it and should support this name because for the first time a person from Northeast has been selected," BJD leader Jay Panda said.
The elections will be held in July, but no dates have been announced yet.
The Congress had reportedly shortlisted Finance Minister Pranab Mukherjee and Vice-President Hamid Ansari as the candidate of the ruling UPA coalition, though Congress President Sonia Gandhi has said that no names have been finalised yet. In the two weeks, the Congress, which leads the UPA, has been carefully consulting its different allies to ensure they will back its presidential candidate.
The election for President is a significant battle ahead of the general elections in 2014, and offers the BJP a chance to take on the Congress. The BJP has said it will not support a Congress-backed candidate. But even its key ally, Bihar Chief Minister Nitish Kumar, has indicated that his party would be in favour of supporting a candidate who is accepted by most parties.
The President is selected by a system of proportional representation. The votes of MPs are put at par with those of elected members in different state legislatures. This gives considerable say to regional parties who have delivered impressive results in recent elections like Ms Mamata Banerjee's Trinamool Congress and the Samajwadi Party.