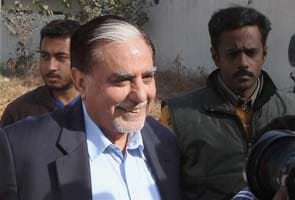 New Delhi:
Two Zee editors were remanded back in two-day police custody by a Delhi court on Saturday to enable the investigators to confront them with Zee group head Subhash Chandra and his son in a case of alleged extortion bid of Rs.100 crore from Congress MP Naveen Jindal's company.
Additional Public Prosecutor Rajiv Mohan sought three-day further police remand for the two Zee editors saying that Mr Chandra and his son were not available for questioning when the two editors were arrested.
"They were remanded in police custody on November 28 for two days. During the police custody, efforts were made to join Zee group chairman Subhash Chandra and his son Puneet Goenka in the investigation as accused persons had to be confronted with them to reach to the bottom of the criminal conspiracy," he said.
Mr Chandra and his son Punit Goenka, the managing director of the company, were questioned by the Delhi Police's Crime Branch for over nine hours on Saturday.
Mr Chandra came to Crime Branch office in Chanakyapuri along with lawyers where he was questioned. The police had served the notice to him on Monday.
A Delhi court had on Thursday granted anticipatory bail to Mr Chandra and his son till December 14 in the case in which two of his editors, Sudhir Chaudhury and Samir Ahluwalia, were arrested late last month following investigations into complaint filed on October 2. The court said that on December 14 it will be decided whether their interim protection can be extended or not.
Investigators have told the local court that they were treating Mr Chandra as an accused as he knew about the dealings between his employees and Congress MP Naveen Jindal's company.
The Zee News Editors are presently lodged in Tihar jail. They have been booked under section 384 (extortion), 420 (cheating), 120 B (criminal conspiracy) and 511 (punishment for attempting to commit offences punishable with imprisonment for life or other imprisonment) of the Indian Penal Code.
The Zee Group has condemned the arrests of their employees and demanded their immediate release. It also denied the allegations against the two journalists, alleging the police action was "illegal" and "designed for something else".
(With PTI inputs)