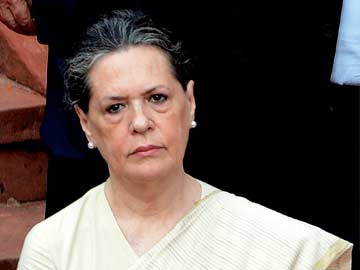 New Delhi:
Estranged Gandhi family loyalist K Natwar Singh, a former external affairs minister, today raked up Congress President Sonia Gandhi's Italian origin, suggesting that her "ruthless" side came from it as "no Indian would have treated me" like she did to him.
Mr Singh, 83, who quit the Congress in 2008 after he had to resign from the UPA-I Government in 2005 over his alleged involvement in Iraqi food-for-oil scam, also said Indian Peace-Keeping Force(IPKF) was sent to Sri Lanka in 1987 by the then Prime Minister Rajiv Gandhi without "clear briefings and objectives" and that his Lankan policy ended in his assassination.
When asked in an interview by a private news channel if he was fonder of Rajiv than Sonia, he snapped back saying it was so because "he did not behave like his wife did".
"No Indian would treat a man who was loyal to family for 45 years who had been very close to her... It's just not done in India. There is a part (of Sonia) which is ruthless," he said.
Asked if that was her Italian part, he shot back, asking what else can it be, adding, "some part of it is not Indian".
"Jawaharlal Nehru, Indira Gandhi, Rajiv Gandhi would not be like that," he added.
On the IPKF fiasco, Mr Singh came across protective of Rajiv Gandhi, saying he cannot be "singled out" for it and that everybody in government was responsible. Rajiv Gandhi was too trusting a man, he said.
Mr Singh also claimed that the decision by Rajiv Gandhi to send troops as part of IPKF to Sri Lanka was taken by him without consulting his Cabinet or top officials.
He had claimed yesterday that Mrs Gandhi declined to become Prime Minister in 2004 because of strong opposition from her son Rahul Gandhi who feared she would be killed like his father if she accepted the post. It was not due to her "inner voice", as she had then claimed, he had said.
Mr Singh was speaking about his autobiography titled "One Life is Not Enough: An Autobiography", which is due to be released soon.
Mr Singh, who was Minister of State for External Affairs in Rajiv's government, said that during the first 18 months of his tenure the prime minister depended wholly on "a team of ignoramuses with inflated egos".
One claimed to be a socialist while one was an inept political "wheeler-dealer" and the third was a meddling nuisance, Mr Singh said.
He identified two of them as Gopi Arora and Arun Nehru, both dead, but declined to name the third one as he was very old and the matter was not so important now.
Mr Singh also claimed that 'Operation Brasstacks', which brought India and Pakistan close to war, was cooked up by then Minister of State for Defence Arun Singh and then Army Chief K Sundarji and that they kept Rajiv Gandhi "in the dark".