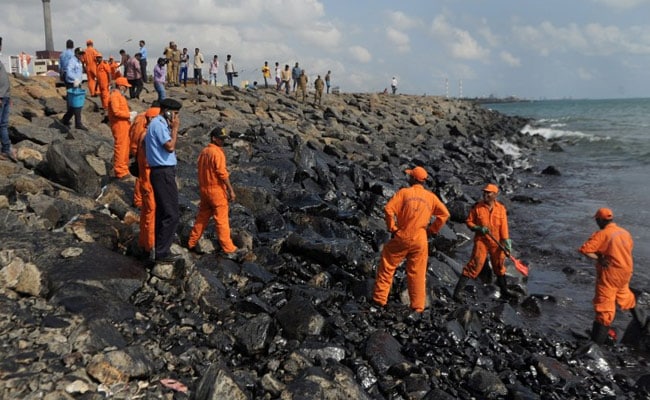 New Delhi:
The issue of a recent oil spill off the coast of Tamil Nadu that is posing a threat to environment and health of local residents has gone to the National Green Tribunal with a plea seeking compensation and seizure of the vessels.
The petition, which is likely to be heard by a bench headed by NGT chairperson Swatanter Kumar on Monday, has also sought constitution of an expert committee to oversee and monitor the entire clean up process and assess the damage caused to the environment.
"The fish and all the other aquatic animals have become victims to the widespread disaster caused by the two vessels as a result of their negligence," the plea filed by one Ashwini Kumar through advocate Sumeer Sodhi said.
The petition has made the Ministry of Environment and Forests (MoEF), the Ministry of Shipping, the Tamil Nadu Chief Secretary, the TN State Pollution Control Board as parties.
It has also made parties the owners of the offending ships, including Gurgaon-based Tokio Marine Holdings Inc.
On January 28, 2017, two merchant vessels - MV Maple Galaxy, owned by Tokio Marine Holding Inc. and under charter party contract with Indian Oil Corporation, collided with vessel MT Dawn Kanchipuram, operated by unknown persons near the Port of Kamarajar in Ennore, Tamil Nadu.
The collision led to a massive spill of hazardous oil and LPG near the shoreline "causing severe damage to the ecosystem in the area and which will eventually become toxic for marine life in and around the place of incident and further result in health and other damage to the residents of the vicinity," the plea said.
The petitioner has sought seizure of both the offending merchant vessels until their owners pay adequate compensation for the damage to the environment caused by them, and that a panel be constituted to oversee and monitor the entire clean up process and assess the damage caused to the environment.
"It is imperative that the respondents pay compensation for restitution and restoration of the environment and ecology and further compensate the affected people who have not only lost their livelihood but are also prone to disease and unascertained consequences," the plea said.
(Except for the headline, this story has not been edited by NDTV staff and is published from a syndicated feed.)