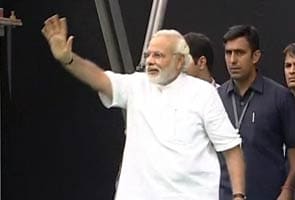 New Delhi:
Narendra Modi is today spending the day with students at an event in the capital that he is attending with Chandrababu Naidu, amid talk of an alliance for next year's polls.
Mr Modi is interacting with over 7000 students from 200 colleges in "Manthan" organised on Mahatma Gandhi's birth anniversary, the culmination of a series of events to draw out ideas for change.
It is the latest in a series of outreach programmes scripted to project the BJP's Prime Ministerial face for the elections due by May. Yesterday, the Prime Minister had said secular forces must come together to "stop the onslaught of people like Narendra Modi."
Mr Modi and Mr Naidu's appearance together was seen as an indication that the Telugu Desam Party chief had moved past his reservations to being seen on the same side as the Gujarat Chief Minister.
Speaking at the event, Mr Naidu praised Mr Modi, saying, "After 2004 people are talking about Gujarat. There is a total shift in favour of Gujarat like it was for Hyderabad before."
TDP sources say that the former chief minister calculates that gains from an alliance with the Narendra Modi-led BJP will more than offset the hit he is likely to take in his vote base for aligning himself with a man seen by many as a right-wing Hindutva mascot who failed to prevent the 2002 communal riots in Gujarat, under his watch.
Mr Naidu also has to consider the impact of a tie-up between the Congress and the Telangana Rashtra Samithi or TRS in the Telangana region and the growing clout of the Jagan Mohan Reddy-led YSR Congress in the Seemandhra region - as the Coastal Andhra and Rayalaseema regions are collectively called.