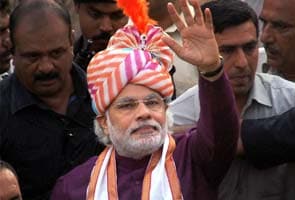 Ahmedabad:
When Sonia Gandhi launched her party's election campaign in Gujarat yesterday, she did not mention Chief Minister Narendra Modi. He has not returned the favour.
"Sonia's speech had nothing in it, newspapers didn't even publish it, only put big picture," Mr Modi said today. He also accused Mrs Gandhi and the Congress of defaming Gujarat.
Hours after Mrs Gandhi's speech, the dates for the Gujarat elections were announced - voting will be held on December 13 and 17, and the results will be declared on December 20.
Mr Modi is seeking a third consecutive term; a big part of his campaign has been devoted so far to challenging the government to reveal how much money has been spent on Mrs Gandhi's foreign tours. Originally, he declared that the figure was 1880 crores, but was forced to tweak his attack when that information turned out to be incorrect. Mr Modi attributed his figures to a local daily which in turn cited an activist from Haryana who had allegedly used a Right to Information application to uncover the bill. Except the activist, Ramesh Verma, said he was still waiting for an answer.
Mr Modi quickly turned that into his new focal point and dared the Congress to reveal the true math. The party has said it has nothing to hide but has not offered an explanation for why the activist has not received a response from the Prime Minister's Office for two years, despite being ordered to do so by the Chief Information Commissioner, who serves as the watchdog for the Right to Information Act.
Mrs Gandhi in Rajkot yesterday took on the Chief Minister over his favourite "development" plank arguing that the Congress introduced many of the schemes that have benefitted Gujarat, but has not been given due credit. She also defended the union government's recent economic reforms, especially the move to allow Foreign Direct Investment or FDI in retail, a policy that is being widely attacked by Mr Modi's party, the BJP, and others, including some regional parties who participate in the ruling coalition.