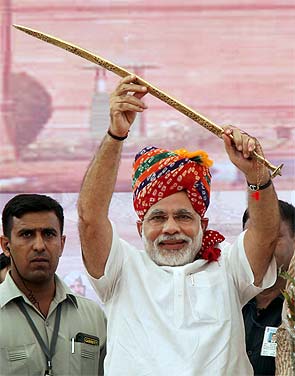 New Delhi:
BJP's prime ministerial candidate and Gujarat Chief Minister Narendra Modi will address a rally in the national capital on September 29, party leaders said today.
The party will also announce the names of its candidates for Delhi assembly elections - expected around November - on the occasion.
"We would be coming out with a comprehensive list of candidates for the coming assembly polls in Delhi after the September 29 rally which will be addressed by Narendra Modi and is likely to be attended by more than four lakh people," said the state unit of the Bharatiya Janata Party (BJP)in a statement.
The rally will be held in Japanese Park in north Delhi's Rohini area.
The party's election in-charge for Delhi, Nitin Gadkari said the criterion for selecting the candidates was his or her ability to win.
The state unit's president Vijay Goel criticised the Congress government in Delhi for the rising prices of onions and vegetables. He said the party has asked all its councillors and legislators to put up stalls providing onions at affordable prices.
Onions in the wholesale market in the city were being sold at Rs.60-70 a kg, he said.