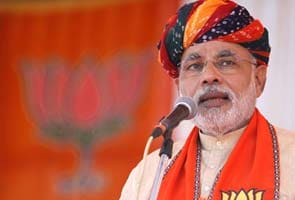 Washington:
Narendra Modi is again set to talk to the Indian community in 18 cities in North America via satellite from state capital of Gandhinagar on Sunday.
The Gujarat Chief Minister will be the keynote speaker at Gujarat Day celebrations across North America, according to the organisers of the event, Indian/Gujarati Samuday of North America, an informal grouping of several community organisations.
Various ethnic Gujarati associations had decided to celebrate Gujarat Day in America on May 12 to celebrate the May 1 1960 formation of the State, the organisers said. Mr Modi, they said was invited to share his vision of "Good Governance" that is the foundation of Gujarat's growth story
The events will be held in New York; Edison, New Jersey; Atlanta, Georgia; Charlotte, North Carolina; Dallas, Texas; Phoenix, Arizona; Riverside, Los Angeles-Norwalk, Placentia and Fremont (Silicon Valley), California, Chicago, Rolling Meadows and Bloomington, Illinois; Minneapolis-Edina, Minnesota; Indianapolis and Merrillville, Indiana; Cincinnati, Ohio; and Baltimore, Maryland.
Mr Modi, who has been denied a US visa since 2005 for his alleged role in the 2002 Gujarat riots, last spoke to the Indian diaspora in North America via satellite in March after the Wharton India Economic Forum withdrew an invitation to him to speak following protests from some students and faculty of the University of Pennsylvania.
While the United States Commission on International Religious Freedom (USCIRF), an independent, bipartisan US federal body has recently asked the State Department to keep the visa ban on Mr Modi, the US business has been warming up to the controversial leader.
A delegation from the US, including members of the House of Representatives and business leaders, led by Republican House member Aaron Schock recently met Mr Modi in Gandhinagar and lauded the state's economic development under his leadership.
Get Breaking news, live coverage, and Latest News from India and around the world on NDTV.com. Catch all the Live TV action on NDTV 24x7 and NDTV India. Like us on Facebook or follow us on Twitter and Instagram for latest news and live news updates.