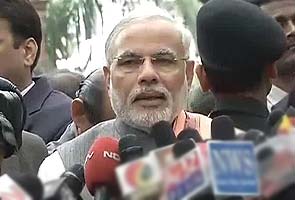 Ahmedabad:
Gujarat Chief Minister Narendra Modi today held a meeting of state Members of Parliament (MPs) and asked them to raise issues related to Gujarat's development during the upcoming Budget session of Parliament.
However, except Rajkot MP Kunvarji Bavalia, no other Congress legislator took part in the meeting.
The chief minister asked the MPs to play a "non-partisan and proactive role" in the interest of "momentum of development in the state", an official statement said.
It was the first meeting after the recent Assembly polls.
During the meeting, Mr Modi put forth 109 issues which require urgent attention of the Centre, the statement said.
The issues include supply of natural gas to Ahmedabad city at the rates on par with those in Delhi and Mumbai, as per the Administered Price Mechanism; Central Sales Tax compensation of Rs 4,100 crore to the state; and permission to raise the height of Sardar Sarovar Dam upto 138.68 meters.
Gujarat has total of 37 MPs -- 26 in Lok Sabha and 11 in Rajya Sabha. Of the 26 Lok Sabha MPs, 15 belong to BJP and 11 to Congress. In Rajya Sabha, BJP has 8 MPs and Congress 3.
Budget Session of the Parliament will start on February 12.