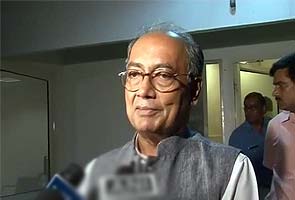 New Delhi:
The BJP's president Nitin Gadkari has refuted allegations that the demand voiced last week for his removal from office is attributable, at least in part, to the political sorcery of Gujarat chief minister Narendra Modi.
But the Congress says Mr Modi should make his stand clear about Mr Gadkari, who has been accused of financial malpractice. "Why is Modi silent on Gadkari's matter? He speaks on every national issue, but why is he not saying anything on this national matter? Modi should tell us whether Gadkari should resign or not," news agency ANI reported senior leader Digvijaya Singh as saying today.
The suggestion that Mr Modi would like to engineer the exit of Mr Gadkari as the party's top man was made over the weekend in a blog by MG Vaidya, who is a senior leader of the Rashtriya Swayamsewak Sangh or RSS. Mr Vaidya wrote that Mr Modi hopes to be named the BJP's prime ministerial candidate and is worried that Mr Gadkari may stifle that likelihood.
The RSS then said Mr Vaidya's opinion was a personal one - the statement was issued by Mr Vaidya's own son, Manmohan. Then, Mr Gadkari spoke on behalf of the BJP and said that it did not subscribe to the conspiracy theory.
On Diwali, new fireworks were created via a series of tweets by S Gurumurthy, the Chartered Accountant who had been assigned by the Sangh to study the allegations against the Purti Group, co-founded by Mr Gadkari in 2000. He quit as its chairman last year. The government is investigating charges that Purti is encircled by a ring of ghost investors, whose financial mendacities include money-laundering and tax evasion.
Mr Gurumurthy told the RSS and then the BJP last week that documents produced by Mr Gadkari established his innocence. Then on twitter, yesterday, he posted, "I have not given clean chit to NG I cannot give clean chit to any one who I don't know fully I don't know NG at all." Hours later, he deleted it and posted, "I think I am being misinterpreted. I have clearly said that the media allegations on Gadkari is false. If this is clean chit I have given it."
Today, he repeated that he has found "no moral or legal wrongdoing" in Mr Gadkari's role in the Purti Group. In a letter to the BJP President, Mr Gurumurthy emphasised that he has sounded the all-clear, and that the media is distorting his remarks to suggest otherwise.
(Read Gurumurthy's letter to Nitin Gadkari)
Last week, noted lawyer and BJP MP Ram Jethmalani and his son, Mahesh, said that if Mr Gadkari is not removed exigently as president, the party's credibility will be shattered. The Jethmalanis are seen as close to Mr Modi,who is expected to win Gujarat for his party for a third successive term in December. As his reward, he is reportedly keen on being named the party's candidate for Prime Minister. Many BJP leaders trying to block this move are supporting Mr Gadkari.