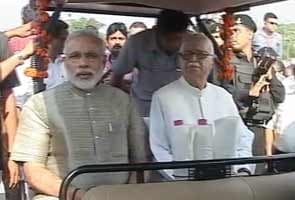 Ahmedabad:
In
Narendra Modi
's Gujarat, LK Advani today said, "We will be elated if Modi becomes the Prime Minister." The words were meant to convey that a hostile past is being buried.
The BJP veteran also said, "There is an unusual quality in Modi. He always thinks of something new," and added, "I am proud that our government in Gujarat and Narendra Modi are drawing praise not just in India but abroad."
That is the most praise that Mr Modi has drawn in a while now from the man who mentored him decades ago.
This is the first time that the two met in Gujarat after the BJP named Mr Modi its candidate for Prime Minister in 2014, steamrolling over Mr Advani's vehement objections.
Sources in the Gujarat BJP said Chief Minister Modi had issued instructions that Mr Advani, who is the Lok Sabha MP from Gandhinagar, must receive a rousing reception wherever he went today. The day's events, they confirmed, are aimed at telling the world that all is well between the two leaders, who have shared a tense relationship for quite some time now.
They arrived in the same car for a function in Ahmedabad after attending a closed door meeting of the Somnath temple trust. They then shared a golf cart decked with flowers to the Sabarmati riverfront, where Mr Advani cut the ribbon to inaugurate a series of gardens.
When the two leaders were last seen in public together, at a massive Bhopal rally in September, Mr Advani made no move to mask his displeasure with Mr Modi. As the Gujarat Chief Minister touched his feet, Mr Advani stared stonily ahead and did not "bless him" the way he did other leaders like Madhya Pradesh Chief Minister Shivraj Singh Chouhan. (
Read: At Bhopal rally, Narendra Modi touches LK Advani's feet, but veteran looks away
)
The 85-year-old Mr Advani had opposed the elevation of Mr Modi first as the BJP's election campaign chief and then last month as the party's presumptive PM. He failed to move the party each time.
Soon after the Modi-for-PM announcement, the two had met at the birthday party of another BJP leader, Ram Jethmalani in Delhi. Amid much awkwardness, both had avoided sitting next to each other despite the best efforts of the host.