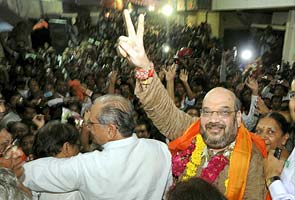 New Delhi:
Narendra Modi's growing influence in the BJP is apparent not only in his being appointed today to two key panels, including becoming the only Chief Minister in the party's highest decision-making body, the parliamentary board today. The Gujarat CM has also managed to get his controversial aide Amit Shah appointed as a BJP general secretary.
Mr Shah, who has several criminal cases against him and is out on bail, was allowed only recently to return to Gujarat by the Supreme Court. Mr Modi reportedly wanted him to be elevated in the party not just so he could have a trusted aide by his side as he takes on key assignments at the national level, but also to fill the gap in party's affairs in Gujarat as Mr Modi moves to his bigger role in the run-up to the Lok Sabha elections 2014.
Mr Shah was Mr Modi's powerful home minister in Gujarat when he was arrested in the Sohrabuddin Sheikh fake encounter case in July 2010. Sohrabuddin and his wife Kauser Bi were allegedly abducted by Gujarat's Anti-Terrorism Squad from Hyderabad and killed in a fake encounter near Gandhinagar in November 2005. The CBI had alleged that Mr Shah was the "kingpin" of the conspiracy in the encounter episode in which most of the accused are policemen, some of them IPS officers. He spent three months in jail, before being granted bail, but was ordered by court not to return to Ahmedabad. The Supreme Court allowed him to return to his state only in September last year, rejecting a Central Bureau of Investigation (CBI) plea to cancel bail.
On his return, Mr Shah contested the Gujarat Assembly elections and is now the legislator from Naranpura.
The Modi stamp on the new BJP team is also clear in the elevation of leaders like actor Smriti Irani and Balbir Punj, who are now party vice presidents.