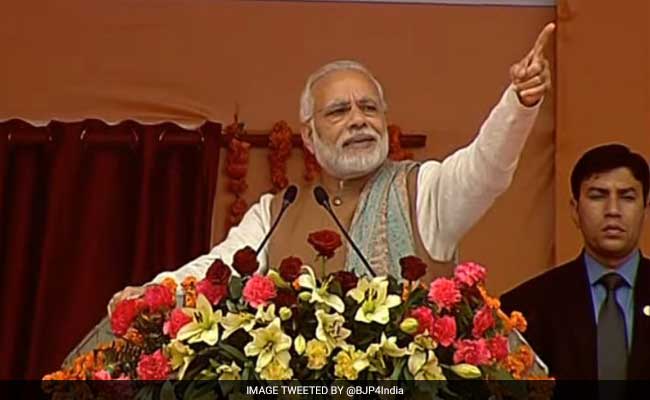 Vadnagar, Gujarat:
Prime Minister Narendra Modi is on a two-day visit to his home state Gujarat, during which he inaugurated various infrastructure projects. On the second day of his visit today, PM Modi went to Vadnagar, his birth place, for the first time since becoming the prime minister in 2014. During his two-day tour ahead of the upcoming assembly elections in the state, PM Modi addressed as many as six rallies and launched various schemes and projects at five places in three regions of the state. The prime minister will inaugurate a medical college and a hospital, and a new building at the local railway station in hometown Vadnagar today, officials said. There will also be an exhibition of photos at the canteen of the local railway station where the prime minister's father used to prepare tea. Narendra Modi in his childhood would often help his father and paternal uncle, and also deliver tea to train passengers. Prime Minister Modi might also hold a 'Chai Pe Charcha' programme. He will also hold a public meeting and address a rally in Vadnagar.
Here are the live updates of PM Narendra Modi's rally and roadshow in Gujarat's Vadnagar:
Prime Minister Modi, who is visiting his hometown for the first time after becoming Prime Minister in 2014, had on Saturday tweeted about his visit. "I look forward to visiting Vadnagar. This visit will bring back several memories from my childhood." The city has been decorated with flags and buntings for the visit of the Prime Minister. Hundreds of people gathered along the route to welcome the Prime Minister as he arrived in a black Range Rover SUV and waved to the crowd. People cheered and showered flowers on him. Acknowledging the overwhelming response, Modi stood on the step of his moving SUV and waved at people all along the route from the helipad on the outskirts of the city to a newly-built medical college. The entire city was decorated for the grand welcome of the prime minister. There were chants of "Modi-Modi" and flowers were showered on him at several places along the route of the roadshow. The locals told mediapersons it was a matter of great pride that the "son of the soil" was the prime minister and was visiting the town after a long time.