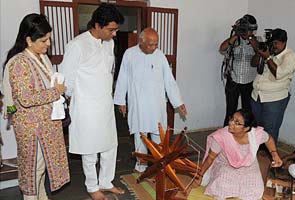 Ahmedabad:
For his nine-day visit of Gujarat, Raj Thackeray is being given the super-special treatment that greets an official state guest.
Special escort cars and security will accompany him as he tours places like the Akshardham Temple and the Nano car plant. The heads of ten government departments will make extensive presentations to him.
Mr Thackeray set up the Maharashtra Navnirman Sena (MNS) after his relationship with his cousin Uddhav soured, forcing Raj to exit the Shiv Sena. He says he has long been an admirer of the extensive development Mr Modi has brought to Gujarat, and wants to study first-hand Mr Modi's policies.
Sources in the government say that several senior bureaucrats were not keen to accord Mr Thackeray the status of a state guest because he does not represent a government, or hold any major post outside his own party. However, Mr Modi's office reportedly over-ruled objections, leading to talk of a new political equation between the Chief Minister and Mr Thackeray.
"If people are attaching political motives to my visit, it's their view," said Mr Thackeray. "As far as I am concerned, I am here just to study the developmental model."
The Congress in the state objected to Mr Thackeray's VIP billing.
"There could be a national political design behind their meeting, but as far as we are concerned inviting and giving Raj Thackeray state guest status is absolutely wrong," said the party's chief in Gujarat, Arjun Modhvadiya.