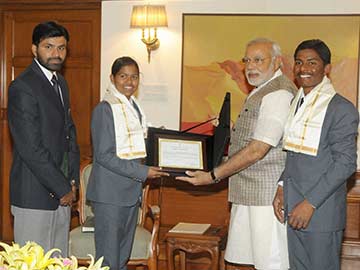 New Delhi:
Prime Minister Narendra Modi today congratulated two young mountaineers who recently made India proud by scaling Mount Everest, saying they had achieved a great feat at a tender age.
He blessed 13-year-old Poorna Malavath and 17-year-old Anand Kumar for the rare achievement, an official statement said.
Malavath created a record of becoming the youngest female ever in the world to reach the world's highest peak at the age of 13 years and 11 months on May 25.
She is a student of the Social Welfare Residential School in Nizamabad, Telangana. Her parents work as an agricultural labour.
Kumar also reached the summit of Mount Everest the same day.
He studies in the Social Welfare School in Khammam, Telangana.
His father works as a mechanic in a cycle shop.