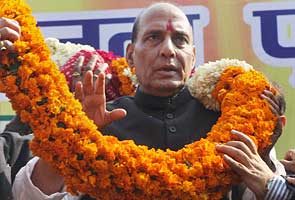 New Delhi:
Gujarat Chief Minister Narendra Modi welcomed the elevation of Rajnath Singh as BJP president, saying he has always been associated with farmers which would benefit the party.
"I called up Shri Rajnath Singh-ji and congratulated him. He brings with him vast experience of both organisation and administration," Mr Modi tweeted on micro blogging site twitter.
"Rajnath Singhji served as Agriculture Minister in Atalji's Govt. He has always been associated with the farmers. BJP will gain from this," he said in a second tweet.
The BJP Parliamentary Board earlier met today to discuss the new developments.
BJP General Secretary Ananth Kumar told reporters that in the meeting senior BJP leader LK Advani moved a resolution appreciating the good work done by the outgoing President Nitin Gadkari.
The resolution praising the dynamism, good work and open mindedness" of Mr Gadkari was adopted unanimously, Mr Kumar said.
Mr Gadkari, facing allegations of dubious funding of his company, was last night forced out of the race for BJP President's post and Rajnath Singh emerged the consensus choice for the office.
Mr Gadkari had issued a statement opting out of the election, saying he did not want that allegations against him should in any way adversely affect the interests of BJP.
62-year-old Rajnath Singh, who had preceded Mr Gadkari as BJP president till 2009, emerged the new choice of the party at a hurriedly-called meeting of top leaders including Sushma Swaraj, Arun Jaitley, Venkaiah Naidu and RSS representative Ram Lal last night.