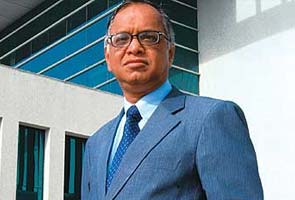 Vadodara:
Gujarat Chief Minister Narendra Modi's developmental agenda has got a shot in the arm. In what is being seen as an endorsement of his developmental work, Narayana Murthy, the co-founder of Infosys, on Monday remarked that Mr Modi had been acknowledged as one of the finest administrators in the country.
Talking to reporters in Vadodara, Mr Murthy to a question on Mr Modi's abilities as an administrator said, "Well, I would say Mr Modi has been acknowledged as a finest administrator in the country. There is no doubt about that. When I come to Ahmedabad and I come here (Vadodara) and look at the power situation here, the quality of roads, look at other infrastructure, it is very very clear from the data on the ground that this state has performed extremely well."
However, on concerns about other aspects of Human Development Indices in the state, the co-founder of Infosys said, "I don't have the data on human development index, rural health or rural education so cannot comment on that."
He, however, pointed out that as one who has visited Ahmedabad, Vadodara and other cities the quality of infrastructure power was excellent. "We need to embrace all the good from every state. Gujarat has developed wonderful ideas; Maharashtra has done well, Karnataka done well in IT. Tamil Nadu has done well in automobile. Therefore, in addition to the Gujarat experience, we have to learn from other states,"" he said.