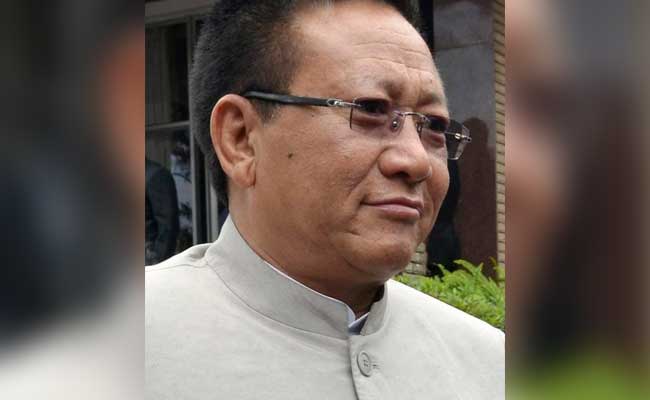 Kohima:
For TR Zeliang, the chief minister's chair in Nagaland has come under unusual ways not once but twice.
The rebel Nagaland People's Front leader today became the chief minister of the northeastern state five months after he was compelled to step down from the chair following public uproar.
This is the second time 65-year-old TR Zeliang, present chairman of the ruling Democratic Alliance of Nagaland, was sworn in as chief minister in the third term of the NPF-led DAN government in Nagaland.
Mr Zeliang, who had been Minister for Planning and Coordination in the Democratic Alliance of Nagaland (DAN) III ministry, had become the chief minister for the first time when he succeeded Neiphiu Rio in May, 2014, following Mr Rio's election to the Lok Sabha.
This February, he was forced to step down as chief minister following public agitation against the government for reservation of 33 per cent of seats for women in the election to urban local bodies.
Shurhozelie Liezietsu had replaced Mr Zeliang. In these five months, Mr Zeliang was the finance advisor to Chief Minister Liezietsu.
He revolted against Mr Liezietsu on July 8 last claiming the support of a majority of the NPF and Independent MLAs and subsequently in a letter to Governor P B Acharya staked claim to form a new NPF government.
Mr Zeliang joined active politics as president of District Youth Congress (I) in 1976. He had been involved in state politics for nearly four decades and served as a minister in various governments in the state.
Mr Zeliang contested state Assembly elections for the first time in 1982 as an Independent and again in 1987 as an NNDP candidate from 6-Tening constituency in Peren district. He was unsuccessful both times.
He then won from Tening four times in a row beginning with the elections in 1989 as a candidate of the Naga People's Council and subsequently in 1993, 1998 and 2003 as a candidate of the Indian National Congress.
He served as Minister of State for Information and Tourism during 1989-90 and as Minister of State for Relief & Rehabilitation from 1994 to 1998.
During 1998-2003, he was the Minister for Environment and Forests and Geology and Mining under S C Jamir government.
In 2003, Mr Zeliang and six Congress MLAs formed the Nagaland Congress after defecting from the Indian National Congress only to merge with the Neiphiu Rio-led Naga People's Front.
From 2004 to 2008, he was a Rajya Sabha MP from Nagaland.
Returning to state politics in 2008, he won from 7-Peren Constituency and was appointed Minister for Planning, Animal Husbandry and Parliamentary Affairs under Chief Minister Rio.
He won the Assembly elections again in 2013 from the same constituency and was appointed Minister for Planning & Coordination, Evaluation & Geology and Mining.
Mr Zeliang was born at Mbaupungwa village in Peren district in 1952. A Zeliang Naga, he matriculated from Don Bosco High School in Dibrugarh, Assam and holds a BA degree from Kohima Arts College.