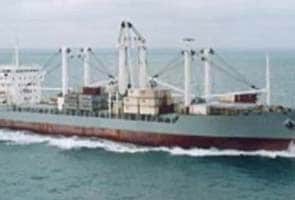 New Delhi:
Egyptian sea vessel MV Suez, which has 6 Indian sailors on board and which was released by Somali pirates recently, is expected to reach Salalah port in Oman today.
However, the arrival of the ship has been delayed as it needs refuelling. The mid-sea refuelling may not be possible due to bad weather conditions. The owners of the ship have now been advised to hire a tug from the Salalah port to tow the ship.
"We issued a press release indicating that Suez's arrival at Salalah is likely to be delayed because the fuel was insufficient. We had a request from the owner of the ship for transferring about 50 metric tonnes of fuel which is not feasible under the given weather condition. We also tried to see if the emergency towing vessel could be available in the vicinity, but that's fairly far away, about 36 hours. We then got in touch with the owners and suggested that 50 nautical miles is not a big distance and they could use a tug from Salalah. We believe that the owner is on the job to tow it to the port," said Satish Agnihotri, Director General, Shipping.
"As a tug boat is expected to come from Oman and tow the ship to Salalah, we expect a delay," he added.
The ship is being escorted by the Pakistan Navy.
Pakistani rights activist Ansar Burney had played a key role in negotiations with the pirates to free hostages for whom it has been a wait of 10 months. The families of six Indians on board are also anxiously waiting for their loved ones.
The sailors of India and Pakistan who are on board the ship will then hopefully fly to their respective countries.
Earlier on Friday, the Indian government had said that the Navy had "coordinated" with other navies operating in the piracy-affected region for providing security cover to MV Suez.
"The Navy coordinated with other navies in the region so that security cover could be provided to MV Suez, the ship which was released by pirates recently and which has crew comprising, among others, of Indian and Pakistani nationals," External Affairs Ministry spokesperson Vishnu Prakash had said.
(With PTI inputs)