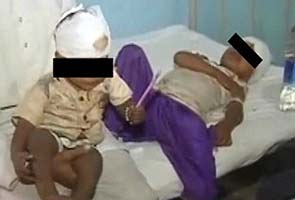 Muzaffarnagar:
For nearly 36 hours, they lay injured and quiet in beds next to each other in a small hospital. The seven-year-old girl's head was wrapped tightly with bandages. Her brother, 18 months old, too had severe head injuries.
They were among the over 40 injured in the volcano of communal violence that erupted in Muzaffarnagar in Western Uttar Pradesh this weekend. So far, 31 people are reported dead. 90 have been arrested. 800 soldiers are patrolling the streets to enforce curfew.
Within the chilling statistics, their story drove home the tragedy of the riots whose grisly foundation was laid late last month when a girl was sexually harassed in the village of Kawal; two men who tried to protect her were killed; so was the man who allegedly harassed her.
On Saturday evening, thousands of Hindu jat farmers gathered in Kawal to demand justice for her two alleged defenders. On their way home, they were attacked.
The children were with their aunt and a male relative who had decided to move them from their village to another. En route, they were attacked. The man accompanying them died. Their aunt was seriously injured. The brother and sister were hit with blunt objects, doctors later said.
Witnesses picked them up and brought them to hospital. Their aunt is in critical condition.
After seeing their pictures in the media, their father, who was in a village in Shahpur district, arrived at hospital to collect them this afternoon. Both children have been sent home. Villages like theirs are still flickering with tension. But for today, one family has a prayer of thanks to offer.