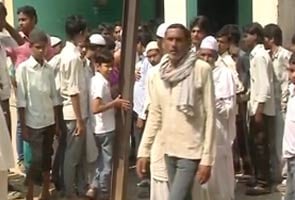 Fugana, Muzaffarnagar:
Mohammad Altaf's five-year-old daughter and two-year-old niece have been missing since communal clashes ripped through Muzaffarnagar in Uttar Pradesh, killing at least 40 people in five days.
Altaf's village in Fugana saw the worst of the rioting which forced hundreds of people to leave their homes and take shelter in makeshift camps. 16 people were killed in the Fugana area, which has four villages.
Altaf says his neighbor took the children, Saniya and Saima, promising to keep them safe, but has not been heard of since. The man is one of the several attackers booked for murder, rioting and arson, but Altaf says the police have refused to answer his calls for help.
"I started calling the Senior Superintendent of Police from 8 am on Sunday for help to find my missing children. He said don't call me for random reasons. The officer at the police station kept disconnecting my calls," Altaf says.
Over 700 accused have been booked in the Fugana area, 94 of them identified, but only three people have been arrested since the clashes erupted on Saturday.
With so many alleged attackers yet to be arrested, villagers are constantly looking over their shoulders.
Another man from Fugana, Naseem Ahmed, has taken shelter in a village 5 km from his home, with his family of 10, including four children.
He saw his neighbors being killed and houses burnt. He says he can identify at least seven of the attackers, who are still roaming free in his village.
"These men are related to some of the policemen. When we called the police station, no one came to help us," he says.
The police admit that some of the names given by affected villagers to NDTV figure in their complaints, but they say they need more time to verify the allegations.
The riots began after a large public gathering of Jat farmers called on Saturday to demand justice for two brothers who were lynched last month after they killed a young Muslim boy for stalking their sister in the village of Kawal. Jat farmers were attacked on their way home, which spiraled into clashes in several villages.