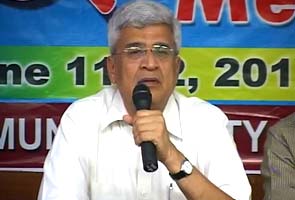 New Delhi:
The Communist Party of India (Marxist) today met President Pranab Mukherjee to protest against the alleged targeting of Muslims in terror cases and demanded that innocent youths harassed by the police and investigative agencies be compensated.
CPI(M) General Secretary Prakash Karat led the delegation to the President and submitted a memorandum, which details cases where youths slapped with terror charges were found to be innocent and acquitted after spending several years in prison.
The delegation included CPI(M) leader Subhashini Ali, the party's Jammu and Kashmir legislator Mohd Yusuf Tarigami, two youths who had spent 14 years in jail before being acquitted and another who had served eight years in a Kanpur prison.
"While no quarter can be given to any individual or group responsible for terror attacks, the arrest of innocent Muslim youths has reached serious dimensions and requires immediate attention," the memorandum said.
"It's a blot on the principles of secular democracy. At the same time, the arrest of innocent people means that the culprits go free," the memorandum said.
The CPI(M) demanded compensation and rehabilitation for those implicated in cases, action against those who framed innocents and the scrapping of draconian provisions in the Unlawful Activities (Prevention) Act.