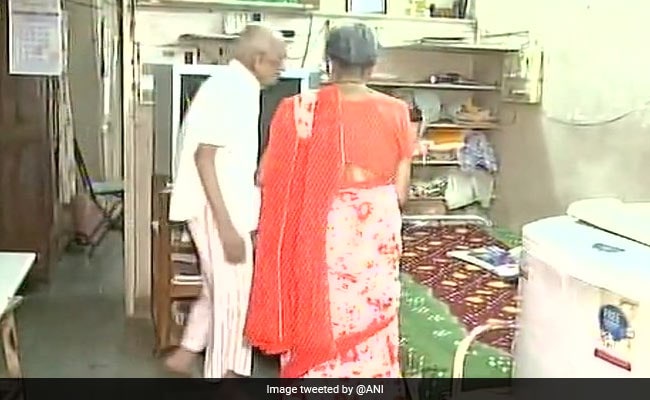 Highlights
Couple from Mumbai write to the President, seek "active euthanasia"
Couple say, "we are of no use to society"
Euthanasia is assisting a terminally ill person die
Mumbai:
An elderly couple from Mumbai has written a letter to President Ram Nath Kovind seeking permission for "active euthanasia", involves helping a person die on his or her request "through direct action".
In the letter, 86-year-old Narayan Lavate, said that he does not have children and they don't suffer from any major health problem, but "we are of no use to the society now and cannot contribute anything". The President has the constitutional power to pardon life sentences, so he should also have the power to allow "right to death", he told ANI.
Mr Lavate retired in 1989 from the Maharashtra State Transport Corporation. His 79-year-old wife Iravati Lavate, a former principal of a High School in Mumbai, told reporters, "at this stage of life we simply do not want to live. We don't have any hardship in our life but still we do not want to live."
Mr and Mrs Lavate said they made a conscious decision early in their life not to have children and now they "don't want anyone to be responsible" in case they fall ill.
The discourse on euthanasia has been on for many years. In October 2017, the Supreme Court indicated it might recognise the execution of "living will" in cases of passive euthanasia, noting that the right to die peacefully is part of the fundamental right to life. The court said, however, there should be adequate safeguards of "living will" and must be subject to doctors certifying that the patient is in irreversible coma.
Passive euthanasia as opposed to active euthanasia is when medical treatment is withdrawn with the intention to hasten the death of a terminally-ill patient. In 2011, the Supreme Court permitted passive euthanasia in Aruna Shanbaug's case; she was a nurse of KEM Hospital lying in a vegetative state for nearly 30 years after she was sexually assaulted in the hospital. Nurses caring for her refused to allow euthanasia. Aruna Shanbaug died in 2015 after being on life support for several days.