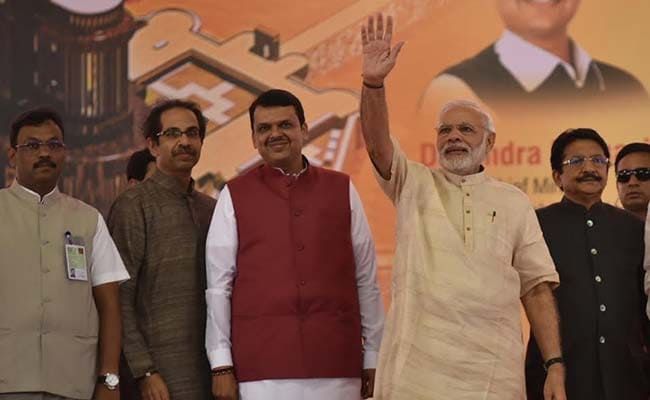 Mumbai:
Ahead of counting of votes for the 10 municipal corporations, the BJP has indicated it was not averse to a post-poll tie-up with Shiv Sena in cash-rich Brihanmumbai Municipal Corporation (BMC). "There are no ideological differences between BJP and Shiv Sena," Maharashtra BJP president Raosaheb Danve told reporters in Mumbai.
"We tried our best to have an alliance with Shiv Sena. But we have differences on some technical grounds. We began (alliance) talks on the issue of transparency (in BMC administration). However, the alliance could not take place on the issue of transparency," Mr Danve said.
However, Mr Danve maintained that his party will win the elections. "BJP will come to power in 11 zilla parishads (out of the 25, which went to polls) and six municipal corporations (of the ten, where elections were held)," Mr Danve said.
About 56 per cent voters had exercised their franchise across 10 municipal corporations in Maharashtra, including for the all-important Mumbai civic body BMC which recorded a 55 per cent turn-out.
BJP and Shiv Sena could not form an alliance for the civic polls. The two parties did not leave a chance to lash out at each other during the bitter campaign.
The electioneering assumed an unusually shrill pitch in the final phases largely due to the acrimony between the two saffron parties, who fought the civic polls separately for the first time in over two decades, though Congress, NCP and MNS were also in the fray.
Allegations and counter-allegations flew thick all through the run-up for the election, which has virtually turned into a battle of prestige for Chief Minister Devendra Fadnavis, heading the state's first BJP-led government, and Sena chief Uddhav Thackeray.
The stakes are high for Fadnavis and Thackeray, who led their respective parties from the front and were involved in a no-holds-barred campaign.
Apart from Mumbai, the municipal corporations which went to the polls were Thane, Ulhasnagar, Nashik, Pune, Pimpri-Chinchwad, Solapur, Akola, Amravati and Nagpur.
Counting of votes for the 10 municipal corporations, including the 227-member BMC, will begin today.
(with inputs from PTI)