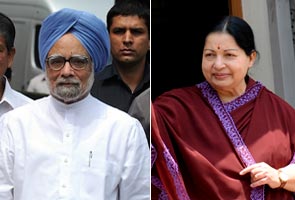 New Delhi:
With Kerala and Tamil Nadu now engaged in open fire over the Mullaperiyar dam, the Prime Minister has intervened. He has written to J Jayalalithaa to say that "nothing should be said or done to create undue alarm" over the dam.
Dr Manmohan Singh wrote, "I am sure that, given goodwill on both sides, an amicable and mutually acceptable solution can be found through a process of dialogue and communication. I have accordingly advised the Ministry of Water Resources to arrange an early meeting between the officials of the two sides to sort out outstanding issues and allay genuine concerns." (
Read PM's letter here
)
Today, AIADMK MPs will meet with Dr Singh to discuss the Mullaperiyar dam issue.
Ms Jaylaalithaa, who heads the Tamil Nadu government, took the Kerala government to court on Thursday. In the Supreme Court, Tamil Nadu argued that the Kerala government "is spreading panic among the public about the safety of the Mullaperiyar dam which is not true." Ms Jayalalithaa has asked the court to stop officials in Kerala from commenting on the possible construction of a new dam.
Meanwhile, the Chief Minister of Kerala, Oomen Chandy, has also written to Ms Jayalalithaa, asking her to reduce the water level in the Mullaperiyar dam, mainly for safety reasons - the structure is more than 100 years old and the region where it is located has seen several tremors lately, at least 20 since July.
However, Jayalalithaa sent an acerbic reply in which she referred to "unwarranted provocations from across the border" and "the fear psychosis generated in Kerala."She said that contrary to Kerala's claims, there have been four minor tremors in the area, none of them close enough to the dam to merit concern. (
Read Jayalalithaa's letter
)
The lengthy and bitter hostility between the two states over the dam rests largely upon the fact that though the dam is located in Kerala, it is controlled entirely by Tamil Nadu.
Ms Jaylaalithaa says the fears over the dam collapsing are unwarranted - and stirred up by politicians in Kerala because they want to restrict how much water is sent to Tamil Nadu.
Both states have involved the union government - asking for an intervention by the Prime Minister. Meanwhile, the Kerala High Court has asked the state government to explain what it's doing to protect lakhs of residents from the potential disaster of the dam crumbling. The Kerala Assembly has called a special session to discuss the dispute.
The dam's structural safety was also questioned in 2008 when experts from IIT Roorkee suggested that it may not be able to withstand a quake measuring more than 6.4.
The Mullaperiyar dam was built in 1895 in Kerala on the River Mullayar and its tributary, the Periyar. The water is diverted eastwards to service farmers in Tamil Nadu. Kerala has repeatedly expressed its opposition to the fact that all benefits from the dam accrue to Tamil Nadu.