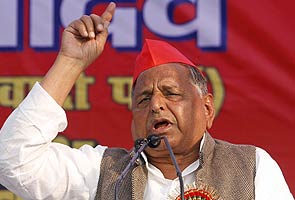 Lucknow:
The Samajwadi Party (SP) has come out with a second list of its candidates for 2014 general elections on Monday.
The list of eight candidates, which includes party national general secretary Ram Gopal Yadav and two Cabinet ministers, came two days after SP announced its first list of 55 candidates.
The party has 22 Members of Parliament. Panchayati Raj Minister Balram Yadav has been named candidate from Azamgarh, whereas Land Development and Water Resource Minister Om Prakash Singh would fight from Ghazipur parliamentary constituency.
Minister of State for Labour Shahid Manzoor would be contesting from Meerut. Former MP Dharmraj Patel, who re-joined the party barely two days back, has been named candidate for Phoolpur constituency in Allahabad district.
Among other candidates Ravi Gautam has been named for Bulandshahr(reserved) seat, Kajal Sharma for Aligarh, Mahendra Verma for Sitapur and Kuwar Akhilesh Singh for Maharajganj.
In Banda the party has replaced its sitting MP R K Singh Patel and has named Shyama Charan Gupta as its candidate.
The SP has taken lead in announcing candidates for the upcoming Lok Sabha polls, with its supremo Mulayam Singh Yadav seeking another term from his Mainpuri seat.
Speaker of the state assembly, Mata Prasad Yadav, would be contesting from Domariyaganj and former minister Ashok Bajpai from Lucknow.