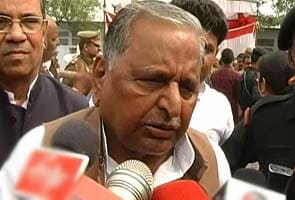 Mainpuri, Uttar Pradesh:
Samajwadi Party chief Mulayam Singh Yadav has toughened his stand further against the quota in promotions bill, saying it will set a bad precedent. The proposed bill seeks to reserve promotions in government jobs for Dalits and tribals.
"More differences will be created within the society...this will widen the gap...we see this as a threat. This is not in the best interest of the country. The government wants to please 18 per cent of people by angering 82 per cent of people. In the future, the backward communities will also come and ask for reservation," Mr Yadav in Mainpuri in Uttar Pradesh yesterday.
The SP chief also said that his party will review its stand on supporting the UPA government from outside if the Bill is passed.
"We will decide when the situation arises," he said when asked if the SP will support the government if the Bill is taken up.
On Monday at 5 pm, the Rajya Sabha will vote on the Bill.
Parliamentary Affairs Minister Kamal Nath had earlier told NDTV that he will ensure that the "quota bill" is also cleared by the Lok Sabha before this session of Parliament ends on December 20.
The Samajwadi Party says the move to reserve promotions is unacceptable; Bahujan Samaj Party chief Mayawati says it's essential; the main opposition party, the BJP, is reportedly willing to support the legislation with some amendments.
Neither Mr Yadav nor Mayawati participate in the government at the Centre, but provide external support to the shaky coalition. Last week, they rescued the government, facilitating an important victory in Parliament on the contentious decision to allow foreign supermarkets into India.