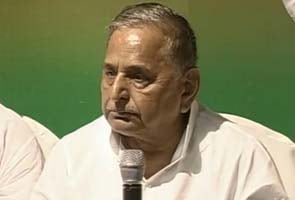 Lucknow:
Hinting at snap polls, Samajwadi Party supremo Mulayam Singh Yadav on Friday said the Congress-led UPA government might declare Lok Sabha elections after the budget session of Parliament.
Asking the party workers to be ready for early polls, he said the exercise could be held by September this year.
"You all should be prepared for Lok Sabha polls. As per my information, the elections may be declared after the budget session and the exercise is likely to be held by September," Mr Yadav said.
He asked party workers to keep an eye on electoral rolls, remain in touch with people and redress their problems by forwarding it to government officials.
On the bureaucracy, the SP chief said he would talk to Chief Minister Akhilesh Yadav on whether the officers were doing work for improving the lot of the common man or not.
On the Delhi gang-rape case, he said a serious problem was buried by raking up of other issues (by the Centre).