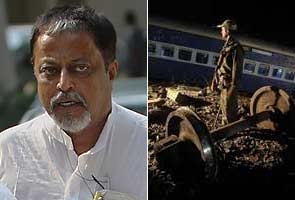 New Delhi:
Trinamool Congress MP Mukul Roy, has not only been denied a Cabinet rank but also shunted out as Minister of State for Railways.
Mukul Roy now only retains the Shipping portfolio as a junior minister. He proved controversial after failing to visit the sites of Sunday's two big train disasters - in Uttar Pradesh and Assam - in defiance of Manmohan Singh's directive.
Read: PM asks Mukul Roy to visit site of Guwahati train accident.
Mr Roy is also not believed to be on the best of terms with his Trinamool colleague Dinesh Trivedi, who has become the new Railway minister.
The low-profile Mukul Roy is seen as the key person who built the Trinamool Congress from scratch and in keeping the party intact despite a series of poor electoral performances between 2001 and 2006.
A party general secretary, 57-year-old Mukul Roy is the only Trinamool minister from the Rajya Sabha. He has been a Minister of State for Shipping since mid- 2009 - a post he got for his unflinching loyalty to West Bengal Chief Minister Mamata Banerjee since the birth of Trinamool Congress in 1998.
A graduate, Mr Roy has been a member of the Upper House since 2006. He is an avid fan of soccer giant Mohun Bagan. His son Subhrangshu is a member of the West Bengal Assembly.