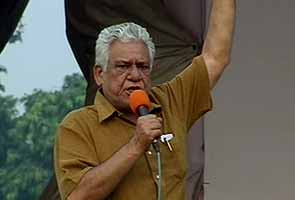 New Delhi:
The parliamentarians are angry with Om Puri after he called politicians "illiterate" and "incompetent" during Anna Hazare's campaign. The actor now faces privilege notices in Parliament.
Two Lok Sabha MPs and two Rajya Sabha members have submitted privilege notices against Om Puri.
These MPs claim Mr Puri made malicious and derogatory remarks against the House and MPs publicly . The BJP too is mulling a privilege notice.
It's upto the Speaker of the Lok Sabha and Rajya Sabha Chairman to admit the notices in the respective Houses. If the notices are admitted, a committee will then examine the evidence against Mr Puri and may even summon the actor.
If not a stringent action, this will certainly come as an embarrassment for Om Puri.