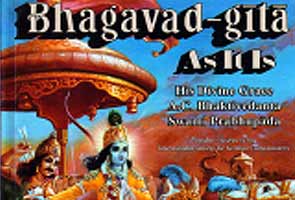 New Delhi:
Angry MPs are urging the government to protect the rights of Hindus in Russia, where a court is considering a ban on the
Bhagavad Gita
.
The Lok Sabha was adjourned twice over the issue. "What happened in Moscow, it is a very strong plot against the
Gita
. All Lord Krishna's devotees are insulted today...we criticize it on behalf of the whole Parliament. We cannot tolerate all this," said former Railways Minister Lalu Prasad Yadav. MPs also asked if the PM was aware of this controversy during his recent trip to Moscow.
In a Siberian court, state prosecutors have petitioned that the
Gita
, distributed locally by ISKCON members, is "extremist" literature. The court in Siberia's Tomsk city was scheduled to deliver its verdict today, but has postponed its decision to December 28.
"The ruling has been postponed till December 28, as the lawyer of the local chapter of ISKCON requested the court to seek opinion of Russian ombudsman and experts from Moscow and St. Petersburg - the main centres of Indology in Russia", Sadhu Priya Das of ISKCON said after the court in the Siberian city of Tomsk suspended its verdict.
The court in Tomsk is deciding whether to accept that the
Gita
is literature that spreads "social dischord." The petition filed in June this year also asks for a ban on a Russian translation of the
Gita
written by AC Bhaktivedanta Swami Prabhupada, the founder of the International Society for Krishna Consciousness (ISKCON). In Kolkata, protestors gathered outside the Russian consulate today.
The International Society for Krishna Consciousness (ISKCON) has in recent years been noted for bulking up its membership in Eastern Europe. The organization has more than 400 centres across the world.
Meanwhile, the Russian Ambassador in India, Alexander M Kadakin, said it is "inadmissible" that a holy scripture has been taken to court. "Well, it seems that even the lovely city of Tomsk has its own neighbourhood madmen. It is sad indeed...I consider it categorically inadmissible when any holy scripture is taken to the courts. For all believers these texts are sacred," the Ambassador said.
Nearly 15,000 Indians in Moscow have appealed to the Indian government to intervene diplomatically. They say the court case also wants to ban the writings of Prabhupada and ISKCON's religious beliefs on the grounds that they preach "hatred" of other religious beliefs.