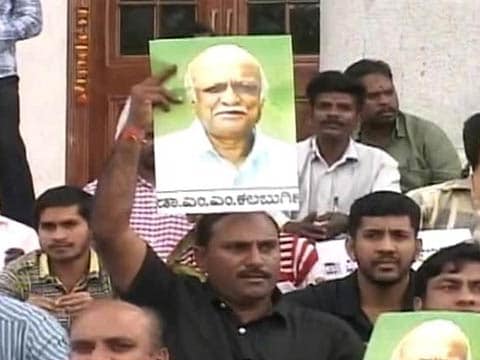 New Delhi:
Six more authors have decided to return their Sahitya Akademi awards as a mark of protest against rising intolerance and communal atmosphere after the death of rationalist MM Kalburgi, taking the number of such authors returning the literary honour to 16.
Kashmiri writer, Ghulam Nabi Khayal, Kannada writer-translator, Srinath DN, Hindi writers Rajesh Joshi, Mangalesh Dabral, Waryam Sandhu and GN Ranganatha Rao have joined other authors who have decided to return the prestigious Sahitya Akademi award.
Mr Srinath won the award in 2009 for translating short stories in Hindi written by Bheesham Sahani into Kannada. He said, "In the place of the pen, there are now bullets being fired. Author Kalburgi was murdered and both the Centre and the state should quickly act against the offenders so that such an incident is not repeated in the future."
In their joint statement protesting the "silence" of the Akademi over the Kalburgi murder, Mr Dabral and Mr Joshi said, "For the past one year or so basic values of democracy freeedom of expression, freedom to live our lives according to our wishes are under attack by the forces of Hindutva, which is not acceptable. The Sahitya Akademi remains silent about the Kalburgi murder so many dangers our democracy is facing, the very fabric of democracy is under threat."
They also said the Akademi should have opposed the killing of Kalburgi openly.
When contacted, Akademi officials said they were yet to receive intimations of the writers returning the awards.
"Apart from writers Uday Prakash, GN Devy, Aman Sethi, Waryam Sandhu and translator G N Ranganatha Rao, we have not got any intimations about the writers returning their awards," an official said.
Earlier, Gujarat-based writer Ganesh Devy, announced he was returning the awards, joining ranks with authors Uday Prakash, Nayantara Sahgal, and Ashok Vajpayei who have given up the honour to protest against Mr Kalburgi's killing on August 20 in Dharwad, Karnataka.
In another incident, a man was killed in a mob attack for allegedly eating beef in Dadri, Uttar Pradesh on September 28.
Atleast 16 authors have announced their decision to return the Sahitya Akademi awards.